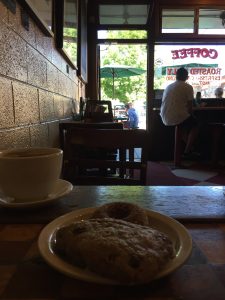 I don't know what you're supposed to do when you're filled with grief. There are some times when it fills you too much that you can't move, can't work, can't think straight. Counseling helps a ton, but you can't be in counseling every day of every week. Although, I can't begin to explain how important a grief counselor is in times of loss. I wish there were more counselors in this world.
For us, we live in North Texas, and it's nice, we both like it there, but there's no place to truly get away from it all. It's hot this time of year, and really, we're surrounded by buildings and prairies, corporations and industries, not mountains. In loss, I think it's best to get away, to the mountains, to become lost in silence.
So that's what we did. On the afternoon of our 11th wedding anniversary, we decided to randomly book a flight to Phoenix, Arizona. In less than 5 hours, we'd be in a land I loved, in a land I was sure would help my husband deal with loss.
And it did, for a time being, if nothing else. We immediately drove to Flagstaff, Arizona, a mountain town in the middle of a desert, a gorgeous hippie red rock paradise. It's a place I went when I was in college, and it's a place my husband and I fell in love with 2 years ago after hiking through the Grand Canyon. We've talked about coming back here a lot, and with a high of 70 degrees in early June combined with cheap last minute fares on Southwest airlines, we couldn't pass up the opportunity.
On our second day here, we drove 30 miles west of town, halfway between Flagstaff and the South rim of the Grand Canyon, to Red Mountain Trail. And we fell head over heels in love. This was exactly what we needed: a red rock oasis miles upon miles from civilization. A place where we could climb and play and cry and think and be still. And that's exactly what we did. We were the only ones there, eerily and beautifully captured in the silence, blanketed in the music of the wind. It was ethereal. My husband climbed for a bit, and I stayed at the bottom, knowing he needed time alone, knowing it's often best to be in silence, to be surrounded by caverns and rusty rocks, away from me and everyone else.
It doesn't take away the pain, but it helps to know we're small here in this vast land. We're here on this earth for a split second, the mountains and rivers and caverns and volcanoes seeing and experiencing more than we'd ever begin to understand.
In times of loss, music heals. Nature heals. Counseling heals. Movement heals. I know that a community heals, too, but sometimes, your community doesn't always cut it. Most people don't know what to say in times of loss, and that is tragic as well. So sometimes, you just need to get away from it all. You need to escape to the mountains.
A few vegan eats in Flagstaff and surrounding areas:
Macy's European Cafe – we came here 2 years ago, and it's the first place we came back to on this trip, and we kept coming back, every morning. Their coffee is excellent, and they have a ton of vegan options, both pastries and doughnuts and PBJ and granola and oatmeal. It's all delicious. Come for the coffee, if nothing else.
Cuvee 928 – One morning at Macy's, we ate breakfast with a Flagstaff 70+ year old resident, who happened to live a few miles from the Red Mountain trails we fell in love with. For some reason, he asked to sit with my husband, while I was ordering food, and so they chatted, about zen, about teaching, about loss, about life, and about drinking wine at noon and taking naps. They chatted and I mostly listened, for about an hour, two strangers, who only shared first names, completely connecting in this wonderful, strange world we live in. That's what I love about life. So after a drive out to the Meteor Crater, we promptly headed back to Flagstaff and straight to Cuvee 928. In addition to a great wine list, they have a vegan hummus appetizer (ask for it without the cheese) and a vegan vegetable loaf with broccolini. The loaf is great, and the broccolini is grilled perfectly. Across the street is a chocolate shop with a ton of dark chocolate options…some of which will go perfectly with your last glass of wine.
Lumberyard Brewing Company – There's something about being in the Four Corners that make us crave breweries. Some of our favorite meals in Utah, Arizona, and Colorado are at the state's best beer gardens, and Lumberyard surely can't be beat. We both started with a flight of 6 beers, most of which were great, all of which are brewed locally. There's 2 dinner options that can be made vegan – a veggie burger and a veggie reuben – I went with the reuben and a side of steamed veggies, and it was perfect, not too heavy and paired perfectly with the beers.
Indian Gardens Cafe + Market – When driving out to Flagstaff from Phoenix, take 89 through Sedona, through Oak Creek Canyons, through the red rock beauty. Sedona was packed this week, so we decided not to hike here this trip, although we've had wonderful trips here many times in the past that weren't as crowded. I still love this town, even with the mass of tourists; it was just too much for us this trip. But we did stop in the Indian Gardens Cafe, just north of Sedona, for a coffee and a vegan bowl of curried veggie and bean soup, before arriving in Flagstaff. This is a really cute cafe, with beautiful outdoor seating and a little market section with some basics. It was packed, and took quite a while to get our coffees, but still worth the stop.
Bahn Mi Bistro – This "no pho" restaurant in Phoenix needs to be added to your stop to or from the airport. It's packed and everyone is super friendly (both the employees and the people who come here – I think everyone is just so excited that they're about to have incredible food). They don't serve Pho, and they say it all over the place – but they do have incredible vegan bahn mi and vegan bun, both served with perfectly cooked tofu. We split  bahn mi and I ate nearly all of my bun, it's just that good.
Hikes:
Red Mountain trail, as described above, was our favorite. Old Caves Crater trail, east of town, was beautiful at the end of the day, close to sunset, with views of Flagstaff and the San Francisco Mountains. Fat Man's Loop, just west of the mall, had beautiful views and gorgeous rock formations. Walnut Canyon National Monument is not to be missed, and about 30 miles to the east, Meteor Crater was pretty neat to see, even with the steep entrance fees.