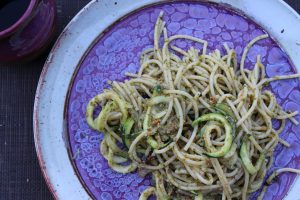 When you lose someone you love, you slowly go through the motions of life, trying to fade into the background, trying to not be seen. Especially when you lose someone tragically, and that person lives in a small town, word gets out – quickly. Everyone wants details, wants to chat and wants to gossip. People are prone to gossip. It makes you want to hide.
When this happens, every moment lasts a lifetime, and every moment filled with joy you want to never end. You want to remember all the good times from here on out. You really see life, maybe for the first time, like watching the sun set over your favorite mountain range.
Every morning that we're at home, my husband plays the piano. He's doing it now, as I type – playing Bach. These moments, I want them to never end. I want to hear his music every day for the rest of my life. And I know, at some point, my life will be without him, or he will be without me. And that music I want to hear, I want to remember. I need it in my blood.
The Buddha taught us that suffering is just a part of life. Suffering makes us stronger. Move into the suffering and you'll grow.
I truly believe that. Buddhism is the only religion I can even remotely relate to. Being raised Catholic completely and totally messed me up, so much so that I despised all religion, all brands of God, all versions of heaven and hell, for decades. It wasn't until the last 5 years that I started to get a bit softer, started to let a little light in. Buddhism allowed that to happen for me. And right now, I just want to say, f- off Buddha. There shouldn't be suffering, not like this. I'm sure in a few months, it will get easier, and I'll look back on these 3 weeks and say, oh how we loved, and how we grew, and how we came together as a family. Because all of those things did happen. But right now, I want the suffering to be over.
And the music, I want it to last. I want him to play all throughout my day. I want to take his piano with us. His notes with us. He can only play a couple songs these days, as it's too hard for many notes to come out. But the ones he does play, he plays with so much passion and love. He may be playing the songs of Bach, of Pink Floyd, of Metallica, of Louis Armstrong, but he's playing them his way – they are his interpretations. The English language does not have a word for the beauty that these notes are. Kind of like in the Secret Life of Bees, how Sue Monk Kidd states that the Eskimos have 13 words for love. We need 13 words for beauty. For grace. For those moments that take your breath away. For those moments that return holiness into your life.
When you're going through loss, of any kind, it's important to get back on some kind of schedule as quickly as possible. It took us 3 weeks to get back on a routine. Actually, today is the first day of any kind of normalcy. And that normalcy burns. We slept in our bed last night, for the first time in almost 3 weeks. We woke up this morning and went on our 2-mile walk, like we have done for so many days throughout our marriage. And I went to my first yoga class earlier this week, with a teacher I don't know well, on purpose, because I wanted to blend in. I don't want to talk to anyone, not yet. I knew I would cry, and I did. And then yesterday, I went to a class with my favorite teacher. And I cried then too. And that's OK. Yoga lets a lot of emotions come out. It's good to allow them to leave you. When dealing with loss, get back on your mat as quickly as possible.
And in loss, fill your life with music. We've been listening to Elbow non-stop for the last 3 weeks. It's hard to listen to anyone else. Elbow's music just fits for where we're at right now. Thankfully, we've allowed music to fill our lives in these times of sorrow. From our magical evening at the Hot Springs hotel that I wrote about last week, to a beautiful evening filled with world-renowned jazz musicians at The Ohio Club, to a fun drunken night of dancing to the recorded sounds of New Orleans musicians in a hotel room, we created new lasting memories with his mom, that we'll cherish forever. We allowed a few hours of happiness into our lives each day. And when we got back in Fort Worth with her, my husband played the drums and she played piano for a few glorious minutes each day. That was her piano, for over 40 years, and now it's his. In our home, in his music room. New memories with his mom. It helps, it heals. And starting tonight, my husband is playing his jazz gigs again. So it's coming back. Music, above anything else, heals.
Life will return, but we'll always have a loss. My husband, more than almost anyone, will have a huge loss. Today is his 40th birthday, and we'll celebrate as best we can. I made him a batch of the Oh She Glows Chocolate Cupcakes with Salted Buttercream along with my favorite zucchini sundried tomato pesto recipe for him a few nights ago, when his mom was staying with us, to celebrate his birthday a little early. The cupcakes are outstanding, but double the frosting recipe so you can frost the heck out of them. I made half with her salted buttercream frosting and made a separate peanut butter-agave syrup-coconut milk frosting for the other half, and the buttercream was hands-down the winner. I recommend serving this pasta dish along with a big healthy salad to round out your meal.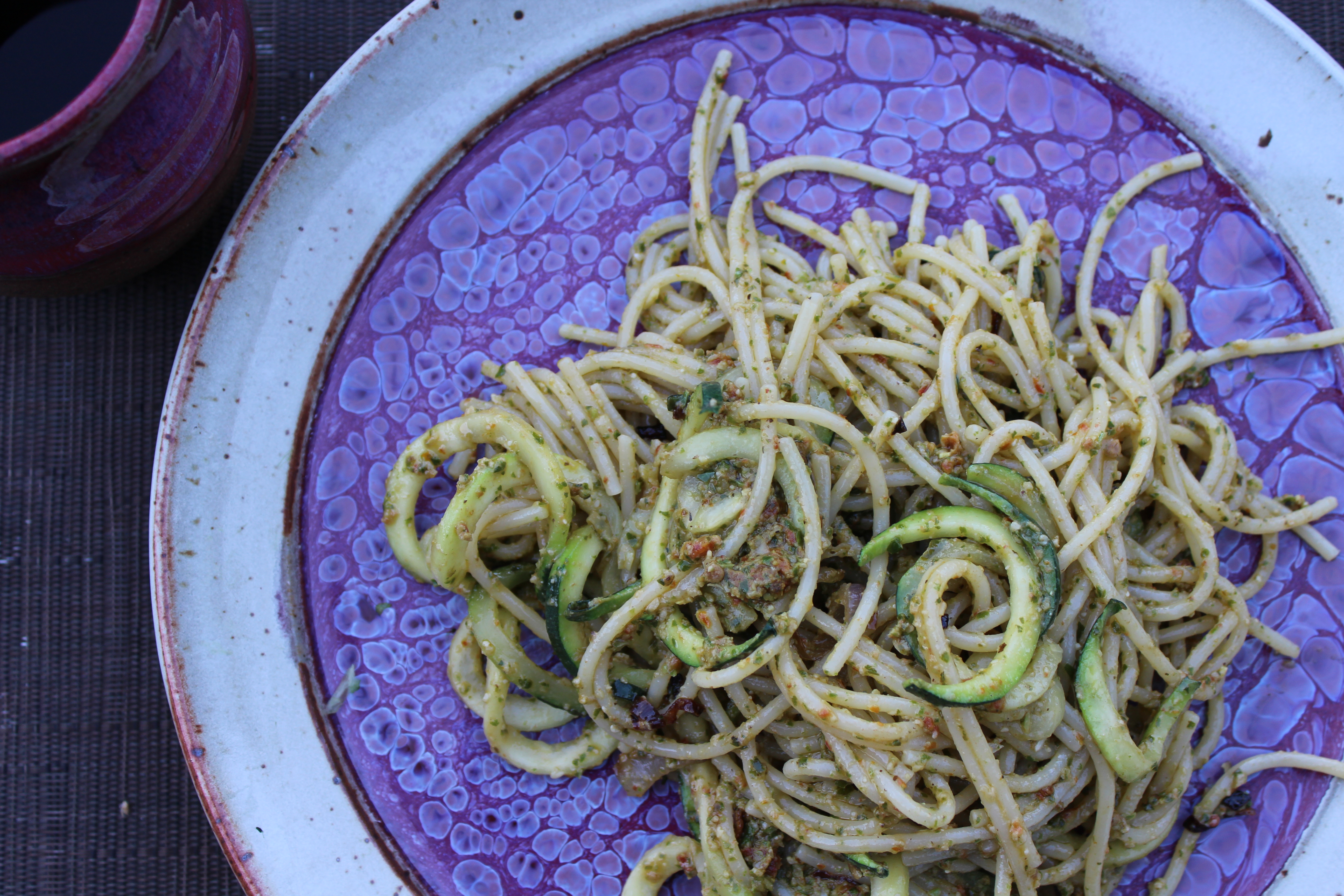 Loving on Zucchini Sundried Pesto Pasta
Ingredients
For the pesto
2 and 1/2

cloves

garlic

1/4

c.

pine nuts

2

c.

basil, fresh and tightly packed

4

sundried tomatoes

1/2

tsp.

salt

1/8

tsp.

black pepper

1/4

c.

olive oil
Pasta
12

oz.

spaghetti

(about 3/4 of a package)

1

shallot

1

tbsp.

olive oil

1

zucchini
Instructions
Make the pesto: add the garlic, pine nuts, basil, sundried tomatoes, salt, black pepper and olive oil to a food processor, and process for about a minute, or until well blended, wiping down the sides as needed.

Bring a large pot of water to boil. Add the spaghetti, and cook for about 11 minutes, or until pasta is al dente.

Heat 1 tbsp. of the olive oil in a medium frying pan. Dice the shallot and cook for about 5 minutes.

Spiralize the zucchini. I like to slice it into spiral shapes, but you can use the noodle option if you prefer. Or if you don't have a spiralizer, slice the zucchini very thin. Add the zucchini to the shallot, and heat for a final 5 minutes.

Drain the spaghetti, and return to the pot. Add the pesto and stir well. Spoon the spaghetti onto each plate, and top with the zucchini. Serve immediately.