Over a decade ago, my soul sister and best friend Laura and I were at a used bookstore in Nashville. Walking through the aisles, she pointed to a book by Byron Katie, and said, this is a great book; Byron Katie has completely changed my life.
Laura is my connection, my heart and my soul; I have two women on this earth that I feel that strong of a bond with, and I'm in awe of them both. When Laura says she's into something, I want to know more.
I bought the book, began reading it that night, and for the life of me, I couldn't get into it.
So it sat on my bookshelf, for years, until, in 2014, I finally opened it again.
The book was called A Thousand Names for Joy. This time, it sat with me a little more, and I went down the Byron Katie rabbit hole, buying her books every time I was at a bookstore, reading and devouring and being confused and questioning, for years.
The teaching that has stood out the most to me of Katie's over the years is this: Is it true?
Is what you're feeling true?
Are your opinions true?
Are your beliefs true?
Are your convictions true?
As I sat on my yoga mat this morning after a gorgeous 20-minute asana practice, these were the words that ran through my head, and of course, the tears came, too.
Yoga is my muse. I want to learn everything I can, and get every certificate I can, and work with every teacher that I'm moved by as much as I can. It's a striving, and a doing, and it's rarely a being.
Yoga at home, alone on my mat, moving with inspiration or moving to a short YouTube sequence, that's my being. That's my truth.
The opinions, and the wants, and the desires, and the striving, none of that is true.
As I contemplate Katie's teachings this morning, I want to pass them on to you, too.
The beliefs, the comparisons, the convictions, the wishing – is any of it true? What is actually true?
Love, Jen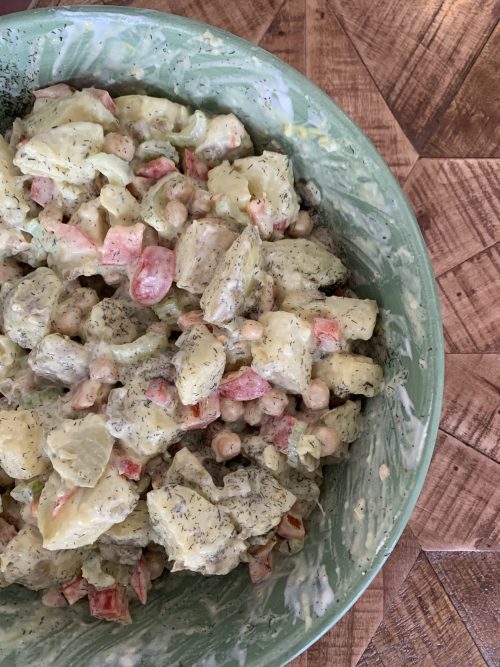 Joy in True North - with Vegan Potato Salad
Ingredients
10-12

small

golden baby potatoes, chopped

1 and 1/2

c.

veganaise

1

red bell pepper, chopped

3

stalks

celery, chopped

2

tbsp.

yellow mustard

15.5

oz.

garbanzo beans, rinsed and drained

4

oz.

canned hot hatch chiles, drained

2-3

tbsp.

dill, dried, to taste
Instructions
Bring a large pot of water to boil, add the chopped potatoes, and stir, occasionally, along with a slow boil, for about 20 minutes, or until the potatoes are fork-tender

Drain, rinse, cool the potatoes. Place them in a large bowl.

Add the veganaise, the mustard, the veggies, and the herbs. Stir well. Taste. Add more dill if you'd like. Add a little salt and pepper if you'd like.

Cover and put in the fridge for at least 3 hours, preferably overnight, Serve chilled.