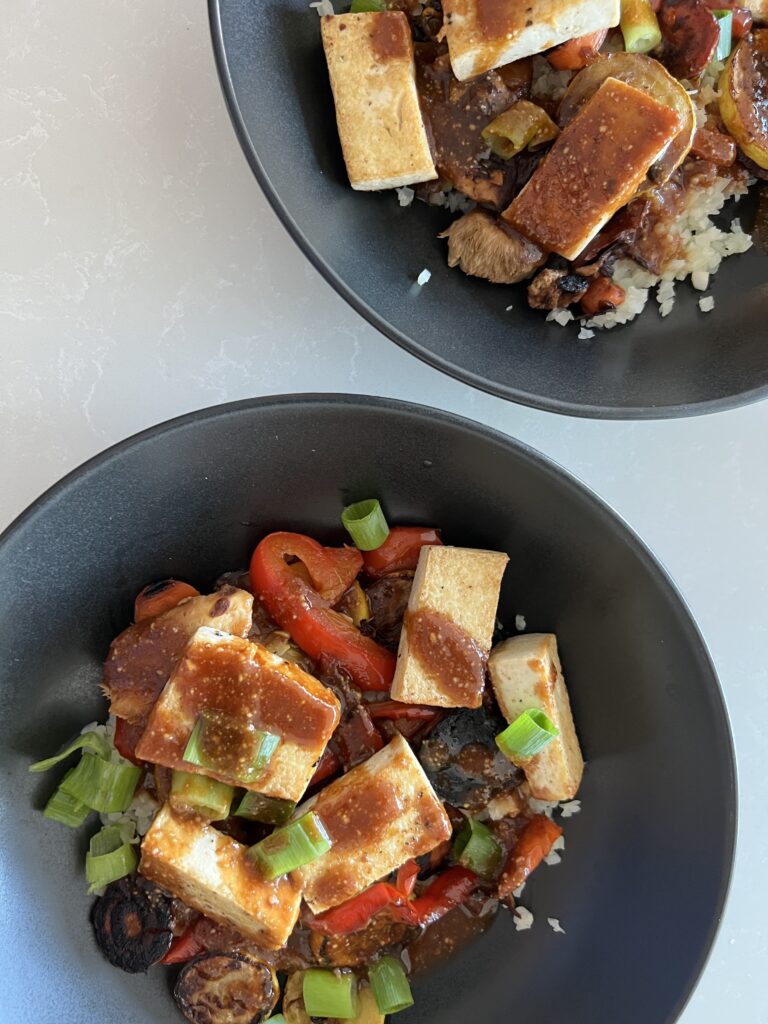 I'm 42 years old and I ate lion's mane mushrooms for the first time in my life last week. For a plant-loving vegan, I like to think my veggie consumption is well-rounded, yet I quickly realized that I eat the same 20-something veggies week after week. Enter in my new goal to eat more plants, which led me to create this vegan lion's mane stirfry recipe. 
My husband and I are both really into health and really into health documentaries (that's pretty much how this entire website and our way of life got started – thanks babe!), and watching the Fantastic Fungi with Paul Stamets about the myriad of benefits of eating mushrooms made me realize I need to branch out. Four months later, I still had not branched out, until I went on a visit to the Clearfork Farmer's Market last weekend. 
If you have not been to your local farmer's market in awhile, let this post be the one that helps nudge you to get out the door and partake in your area's freshest ingredients. If you're lucky like me, you'll even run into old friends while you're there! And if you're looking to make friends (or lovers for that matter), what a great, healthy place to meet like-minded people. Support your local farmers, get healthy, create new meals, and grow your community!!
If you are also always trying to find the healthiest foods for you, check out the fungi documentary linked above. You will love it – not only for the health, also for the fascinating lives of mushrooms.
I was pleasantly surprised to wander around the farmer's market and find Dryad Grove Mushrooms based in Weatherford, Texas. They had a huge assortment of mushrooms, mushroom jerky, tinctures, and broths, and it's a sweet, family-run business, like it is with most farmers. I went a tiny bit nuts (and plan to again week after week) – and after seeing their varieties and remembering the benefits of lion's mane that I learned from the documentary, I had to try out a new recipe that I present to you today – lion's mane stirfry. 
They are gorgeous species, first of all, and easy to work with, and they sauté so well, and taste insane good. Oh my gosh. I put them with other sautéed veggies, crispy tofu, and the peanut sauce I make week after week. I present this to you below.
Note to my dear readers: If you love peanut sauce as much as I do, double this and use it all week long! I made a batch of roasted potatoes to pair with this sauce, and sautéed cabbage with noodles and tofu pairs really well with this, too. You might even find me running by the fridge day after day getting a scoop of this sauce on it's own. It's that good.
I hope you give this a try! As always, if you do, please let me know what you think!
See y'all at the farmer's market.
Love,
Jen  
Lion's Mane Stirfry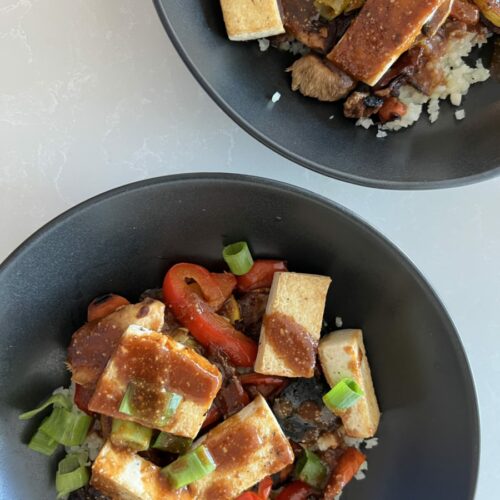 Lion's Mane Stirfry
Ingredients
For the Peanut Sauce
5

tbsp

peanut butter

4

tbsp

tamari

2-3

tbsp

maple syrup

2

tbsp

lime juice

1

tbsp

sesame oil

1-2

tsp

sriracha

1

tsp

minced ginger
For the Stirfry
14

oz

extra firm tofu

8

oz

lion's mane mushrooms

2

carrots

2

yellow squash

1

red bell pepper

2

tbsp

sesame oil, separated

1

tsp

garlic powder

1/4

tsp

salt

1/4

tsp

black pepper

12

oz

bag of cauliflower rice

2

green onions
Instructions
For the Peanut Sauce
Add all ingredients into a bowl and whisk together well. Taste and adjust as needed. I typically end up with 3 tbsp of maple syrup and 2 tsp of sriracha, but definitely start with less, taste, and adjust to your preferences!
For the Lion's Mane Stirfry
Drain the tofu, put into a press (or wrap in towels and place under your heaviest books) for at least 10 minutes. Once most of the water is drained, cut the tofu into approximately 1" squares and set aside.

Meanwhile, clean and chop the veggies into approximately 1/4" slices. Clean and loosely chop the mushrooms. Slice the green onions and set aside.

Heat a large saute pan and add a bit of sesame oil. Add the veggies (hold on the mushrooms for a sec and do not add the green onions) and saute for about 10 minutes, until they start to soften and darken.

Add the mushrooms and saute for 15 more minutes, stirring often, until the veggies and mushrooms are browned.

Meanwhile, heat another large saute pan and add about a tablespoon of sesame oil. Top the pan with the tofu, turning it immediately so both sides are covered with oil. Then sprinkle with salt, pepper, and garlic powder.

Saute the tofu for 5 minutes, then turn and cook a final 3-4 minutes, until both sides are browned.

Make your cauliflower rice according to package directions. This typically takes about 5-7 minutes to heat up, so it's good to do this as the last step.

Now, plate your food! In large bowls, layer the cauliflower rice, then the veggie mixture, then the tofu, and top with peanut sauce and your green onions.