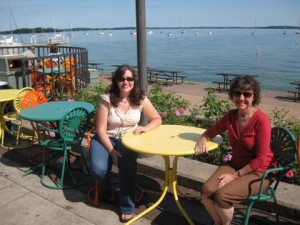 Madison is another one of those incredible college towns, situated on water, with great live music, healthy lifestyles and a ton of vegan cafes. My mom and I went here for the Art in the Square festival and loved every minute of our time here.
Bunkys Cafe – this is one of my all-time favorite restaurants and was the best food we ate on this trip. It's a lovely home turned into a Mediterranean restaurant, near a botanical garden and a few art shops and galleries. Their falafel, hummus and tabouli were delicious, they had incredible service and the wait was oh so worth it. These are the kind of restaurants you don't forget.
Marigold Kitchen – this breakfast and lunch spot on the downtown square was so delicious that we went here twice on this trip. They offer a tofu scramble with fresh veggies and tortilla strips, steel cut oats and great coffee. This is a cheerful cafe with great service and good design.