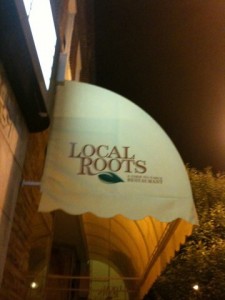 Roanoke is a gem of a small town, nestled near the Appalachian trail in stunning western Virginia. It is one of my favorite small towns to travel to, to get away from the hustle and bustle of a city, to stroll along the daily farmers market downtown and sip coffee at independent shops. It has a great arts scene, good live music, neighborhood-supported restaurants and co-ops, and many vegan options to choose from.
Local Roots – this organic restaurant is located in an adorable, walkable neighborhood with a daily changing menu. They do not list vegan options on their set menu, but their produce is fresh and they are willing to make vegan dishes for their customers. On my last visit they made a butternut squash and grains main course for me and it was incredible. The service is great, it's nice and small, and they pay attention to every detail. You'll pay for these details but it's worth the cost for a date night or special occasion.
Fork in the Alley – FITA is a slightly upscale version of a pub with ample outdoor seating and one of the best patios around. They have a portobello pasta that can be made vegan as well as a house-made black bean burger which is filling and quite tasty. They also have several salads on their menu that can be made without meat. This brick oven pizza pub is definitely worth the visit for vegans and non-vegans alike.
Wildflour Restaurant and Bakery – everything at Wildflour is made in-house and you can certainly taste the difference. They pride themselves on their whole foods-based menu and use organic ingredients whenever possible. This is a popular place for lunch and due to this, service can be slow around that time. With a black bean burrito, a portobello mushroom sandwich, a Greek wrap and a millet burger all as vegan options, there's a lot to choose from here.