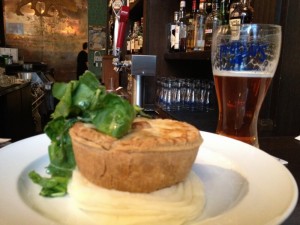 Vancouver is the city I'm always trying to figure out how to get back to. If you only weren't so far from Texas…. My husband and I spent a week here in 2012 and loved every bit of it.  The downtown is active, walkable, Granville Island was fun to explore, we met up with some old musicians friends, hung out at Kitsilano Beach, Jericho Beach, drank ourselves silly in Gastown, walked everywhere you can imagine, and ate incredible vegan food! Here are some highlights.
The Templeton Diner – I loved this tiny place and thankfully arrived before the rush as it is tiny. The food is incredible.  For breakfast, I ordered the baked grapefruit with nuts on top, followed by the tofu scramble.  It was filling and delicious, and the service was excellent. I highly recommend this place.
Vij's Rangoli – I had a delicious tea and spinach/pepper curry with fresh naan.  The food was pretty good and the service was fast and courteous.
The Irish Heather – my husband and I loved this place so much we went two nights in a row.  Their bar staff is incredible, some of the best bartenders I've ever visited with. It's such a skill that's going away, and such a shame. Bucky served us both nights and he's a true artist as a bartender! Both nights I ordered the vegan shepherds pie along with a side salad and you must go here and order this dish. Do it, you will not regret it. If Bucky is there, even better!
Khunnai Chang – this thai restaruant on Denman had a delicious lunch special menu with many vegan options to choose from. I ordered the steamed vegetables and brown rice with tea and it was fantastic.
Nuba – a beautiful Mediterranean restaurant in Gastown, Nuba is a perfect place to meet friends and share their fabulous dishes. We ordered hummus, vegetables, rice, falafel and pita and everything was fresh and delicious.
YEW – this is a beautiful restaurant in the Four Seasons with a full-on incredible vegan menu. I ordered the risotto and the YEW salad and both were wonderful   The service was out of this world as well, will definitely come back.