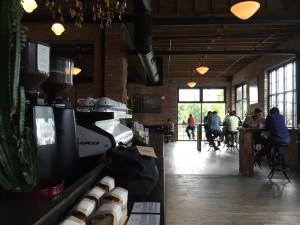 My mom and I plan a trip together once a year to an art festival. We pick a new art festival and city each year, planning the trip more around the art than the city – but as you know, it's the art (and people) that makes a city what it is…so we're often very pleasantly surprised by the places we visit. This recently happened as we planned to attend the Uptown, Penderhorn and Loring art festivals in Minneapolis. I picked Minneapolis because I'd ordered a piece of pottery from a local potter, who mentioned in his bio that he enjoyed living in the arts mecca of Minneapolis. Of course this caused me to spend some time on google, and I decided we needed to visit – in the summer. After doing more research, I learned Minneapolis is one of the healthiest cities in America, is in the top runner for best bike trails, has a ton of independent coffee shops, and a ton of wonderful artists. I'm sold. In the summer at least…this Texan doesn't handle temperatures below 50. So, we planned our trip around the festivals in August, and we had a blast. What a great city! Here's the best of, for any vegans out there, and for anyone looking for a few places to visit while in town.
Ecopolitan – our new culinary director at work said this is the place to go, and man was he right. Everything is raw and vegan, and the tastes are incredible. I ordered the Ginger Lemonade juice, which tastes as good as it sounds. I just love ginger, and it was incredibly refreshing. I wanted to order a sampling of items to get a taste of various foods, and was bummed to learn that they had run out of their cashew cheese log. That sounds delicious. So we ordered salsa and guac to start with their house-made chips – the guac and chips were especially good, and this is a small appetizer so you won't get full. I ordered their soup of the day which was a chilled spicy red pepper – very spicy, and very good. We both decided to get the savory casserole for dinner and it was delicious and the perfect size. Just read their description and try not to drool: dill cashew cheese and fresh vegetables layered with zucchini, avocado and buckwheat breadcrumbs. Their service was slow this night, and the restaurant was fairly crowded on a Thursday night, but it was a very fun atmosphere and we were in no rush so we enjoyed every minute of it. This restaurant also has an oxygen bar, cooking classes, an infrared bar, and much more.
Common Roots – this was my favorite breakfast in town. I ordered the Farmer's Breakfast, served up with thick slices of tofu, vegan sausage, potatoes, tomatoes and sourdough bread. It was filling, had enough protein to hold me over and was absolutely delicious. Go here!
Birchwood Cafe – this was my favorite restaurant in Minneapolis, located in a cute neighborhood, with a colorful, friendly, casual environment and plenty of vegan options, both in their main courses and their desserts. It's laid back and the kind of restaurant where everyone seemed to know each other, definitely a neighborhood gem, which I just love. I ordered the vegan tofu sandwich and my mom ordered a vegan zucchini pasta, and both were perfect. We got some vegan oatmeal cookies to go that hit the spot.
French Meadow – this is a cute cafe on Lyndale right next to Common Roots. It has a cuter atmosphere than Common, but my breakfast at Common was much better. However they do have vegan options which is nice, I just was not blown away, and neither was my mom.
Spoonriver – we scored the last patio table at this restaurant located in Mill District. We both ordered the veggie burger which was incredibly tasty. Warning: they give you a ton of dijon with this dish. Be careful, a little goes a long way with this stuff. This is a nice restaurant to hit up, especially on the patio, and enjoy a walk around town after.
Rustica – our last breakfast in town was at Rustica, a cute little coffee shop with a very small selection of food. I ordered the oatmeal with currants, thyme, walnuts and apples, and they'll cook it with water if you just ask. It's a cute little cafe and looked to have a huge assortment of breads, but I'm not sure how many of them would be vegan.
Seward Cafe – a divey, warm little restaurant with a huge (and full) patio, they have a good vegan selection and what looks like a huge following. I ordered the TLT with tempeh with corn chips and it was good and not too filling.
Spyhouse – so I have to mention this place, it's a coffee shop with an incredible tea selection, and is probably the coolest coffee shop I've visited. It's very hipster without making you feel like you don't belong…with tons of seating, a great mix of people, huge windows and like a said, a wonderful selection of teas and coffees. I am jealous I don't have a Spyhouse where I live.
What else? Aside from these incredible restaurants, Minneapolis is filled with arts (The Weisman, Walker and the Russian Museum were incredible, especially the latter). Tons of bookstores, including the incredibly cute Wild Rumpus Books, many galleries and clothing shops with independent artist labels, such as Poppy, and a wonderful, I mean wonderful, places to walk, jog, bike, you name it. The lakes are incredible, the Peace Gardens and Rose Gardens were awe-inspiring, the Minnehaha Falls and Mississippi River were beautiful. This city is just wonderful, add I can't wait to get back. In the summer. 🙂