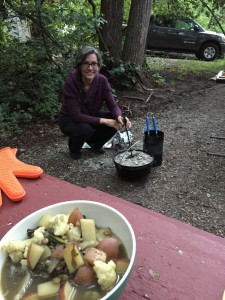 This post is very delayed. I wish I had good reason, but it's simply that I don't enjoy getting on a computer after a full day of working on a computer. In truth, I strongly dislike the screens, social media, phones, televisions, all of it. I don't own a television and I pretty much never have. I don't own a computer outside of work, and although I have an iPad, I rarely use it. My addiction is reading, with paper books. The kind that smell when you open them. That feel good on your fingers. That you can write in the margins. Not on a screen. I love used books, new books, all of them. My favorite places are bookstores. I get lost in psychology, sociology, yoga, meditation, finding your purpose, the power of positive thinking, metaphysics, Buddhism, comparative religions, mythology, and any healthy cooking books. I read fiction too but not nearly as often. I read a lot of poetry, at least one new poem a day. I read at least one book a week. I love and cherish silence. I love writing too, and journaling, but much prefer to do all of that by hand. So, this post is about a month delayed.
After 2 weeks of teardropping throughout the Southwest in June, I wanted to share some of our favorite campfire recipes with you. I came up with almost none of them, so these are links to some of my favorite chefs and a few random google searches that have proven to be excellent recipes. They work well both at home and over a campfire, as well as on a propane stove. I hope you enjoy. This was our first time to try out a dutch oven, and I had to double the cooking time (if not triple) on everything I made. I'm not sure if that was due to the weather (it was chilly every night) or the altitude, or if that's normal. Just note you might want to start making these the second you get back to your campsite so they have time to cook. I learned quickly to start dinner, then get a shower after a day of hiking while my husband watched the fire, and then spend time relaxing and watching the oven. What would normally take one hour to cook often took 2-3. This is not a big deal as you're outside by a campfire so really life can't get better than that, just a heads up if you're really hungry, you might want a light snack.
Big Batch Vegetarian Lentil Chili – I found this recipe many years ago and have made it on multiple occasions. It's filling, spicy and delicious. I often add jalapeños and avocados to this and of course omit the cheese. It's great on a stovetop and worked really well in a Dutch oven too.
Simple Vegan Cornbread – I have made this recipe several times over the past few years, it's truly a staple with most of my soup and chili recipes. This is the best vegan cornbread I've ever found. It's great in the oven and in a Dutch oven over a campfire.
Sloppy Joes and Baked Beans – there are a lot of great looking recipes on this site, but the ones I tried are the sloppy joes and the baked beans. Both I made for the first time on the camping trip, in a Dutch oven, and both were incredible. I've since made them at home over a stovetop and am so impressed by the flavors. I truly suggest you giving these a try on your next adventure! You have to bring some extra ingredients but it's worth it and hopefully you can find other recipes to sneak them into.
Spiced Red Lentil, Tomato and Kale Soup – Oh She Glows is the first website I go to anytime I'm looking for a new recipe to try out. I also have her cookbook and have made almost every dish in it. Everything I've tasted of hers is excellent, I've never had a flop. I cannot recommend this enough. This recipe I've made several times at home and was excited to take it out on the road. It worked great over a campfire on cool Wyoming nights! I also made her Lentil Cauliflower Soup recipe from the Oh She Glows Cookbook on this trip. It's a delicious soup but you'll have to buy her cookbook in order to get the recipe, it's not printed online that I can find.
Black Bean Tacos – this is our fall back when we're driving and want a break. We'll pull over to the side of the road or to a state park or rest area and cook up some food. The best part is that people will always come up to us to check out the teardrop when we're cooking. People are fascinated by the trailer and we've met so many interesting people from all over the world just by heating up food on the side of a road. This is a truly simple meal consisting of a can of black beans, a can of corn, a diced onion, diced tomato, diced red bell pepper, cumin and turmeric, and jalapeños. Drain the beans and corn and cook over a propane burner. On your other propane burner, cook up the diced onion, tomato, pepper, along with your spices of choice. When the bean mixture is heated, I'll remove the pan from the burner and put on some tortillas. Serve with sliced avocado and additional salsa if desired. I'll often prepare this the night before and store it in the teardrop fridge so it's easier to throw together on the road, and the mixture lasts for a few days.
Artichoke Tomato Pasta – another simple recipe when you don't want to go to a lot of trouble after a full day of hiking! Throw a half a bag of pasta in a pot over your propane burner or Dutch oven, and cook al dente. On a frying pan, heat up sliced cherry tomatoes with artichoke hearts. Whe the pasta is ready, drain the water (I reserve some for the tomato artichoke 'sauce') and add the pasta back in the pot. Add the cooked tomatoes and artichokes, and top with a few handfuls of spinach. Cook until the spinach is wilted and the pasta mixture is heated through.
S'mores – you just can't camp without them. I ordered Dandies vegan marshmallows before heading out on this trip, and found vegan graham crackers and dark chocolate bars and chips at Whole Foods. The typical s'mores were fun, but a few nights I made tin foil packets with a banana sliced down the middle, mini marshmallows, dark chocolate chips, and crushed walnuts on top. Heat through over a campfire and enjoy warm. These babies are delicious!
SaveSave