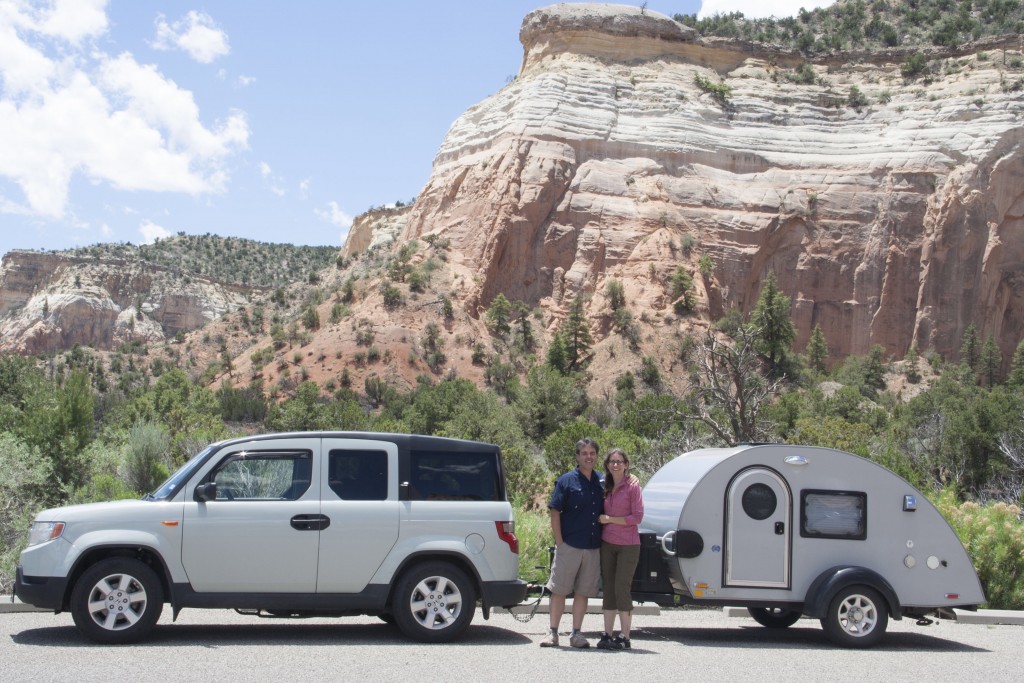 We just returned from a 2-week 10-year anniversary vacation planned around a trip to see Yellowstone National Park. We spent most of our time planning for Yellowstone and Grand Tetons, and didn't focus too much on the areas to and from these locations. We are based in North Texas so decided to go up the main route, I-25 through Colorado, and we are so glad we did. Here's a little trip recap, a list of some vegan cafes along the way, and a list of lessons learned.
We travelled in our Honda Element and slept each night in our 2015 Little Guy Tag Teardrop trailer. I love this thing, it was the best purchase we've made in a long time. I highly recommend teardrops and can't say enough good things about our tag! We had taken it out several weekends to local Texas State Parks to give it a try before our big trip and I'm very glad we did.
I'll start with a list of what I learned after 16 days away from home:
1. North America is beautiful. The Southwest United States is one of the most magical places I've ever been to. I bugged my husband over and over to take me overseas for our 10-year, but financially it didn't seem to be a good idea right now, and I can't say enough how glad I am that he convinced me to stay close to home. Our country is gorgeous. Our national parks are the best places to spend time. There's nothing better than being in nature.
2. Shower shoes are the best $5 you'll spend and should never be forgotten.
3. REI has the best return policy of any store I've ever shopped at. I'll be a customer for life.
4. I brought way, way too much food. Being a vegan, I'm always concerned about food options when traveling. Every city has a great grocery store with fresh veggies and fruits. You don't need to bring an entire grocery store with you on your trips. It's fun to go into local stores anyway to see what's fresh and what's local in the area you're visiting.
5. I love my bathroom at home. I had no idea how much I'd miss my 1950s blue toilet and shower. I'm no primadonna but I was a little over squatting over toilets and dealing with dirty showers over 16 days. Which leads me to…
6. Laughter is all you need in life. My husband is the funniest person I've ever met. He can get me out of a bad mood faster than anyone, and showering in places with no curtains and using dirty bathrooms can put me over the edge. If you are considering getting married and the person you are about to marry does not make you laugh, run. That's all that matters and it's the only piece of advice I can offer after 10 years of marriage.
7. And more on showering…you don't need to shower every day. We don't really get that dirty. Hot water and showers should be valued and not wasted.
8. Being able to breathe in fresh mountain air is as good as it gets.
9. Texas has the best rest stops. They are clean, safe and well-designed.
10. Hiring a pet sitter is totally worth it. It is great to come home to happy dogs and a clean house after two weeks away.
11. Take a 2-week vacation. If you can't because of work, your job is not worth it. Focus on what matters most in life. It's not your job. It's your family, your health, your peace of mind.
12. We don't need all this shit. I'm a bit disgusted to admit my husband and I live in a 2100 SF home. It's fairly empty I'll add. I'm an extreme minimalist already, but for real. Living out of a teardrop trailer for 2 weeks has taught me that I don't need all this stuff in my life. We spend all our time acquiring and then at the end of our lives we spend all our time trying to get rid of everything we've acquired. How about we stop buying things and focus on collecting experiences?
13. Don't ever, ever weigh yourself after coming home from vacation.
Trip Recap:
Colorado Springs
This was our first stop along the way and we loved it so much we decided to spend 3 nights here at the Lone Duck Campground. The campground completely spoiled us with clean bathrooms, clean showers, friendly staff, and a beautiful location. I highly recommend this place. We were in spot 29A right by the river with a bit of privacy and it was perfect. Waking up and practicing yoga alongside a river as the sun comes up over pikes peak is as good as it gets. And Colorado Springs is just beautiful. We spent several hours and 2 days hiking around Garden of the Gods, and fell in love with the trails at Mueller State Park in Divide and Helen Hunt Falls as well. The Mueller SP campgrounds looked great, we will definitely be camping here in the future. Lone Duck was the first time I ever cooked with a Dutch oven over charcoal and it was a blast for me. I love to cook and doing so while camping was truly fun. I'll post some great camping recipes to try out in a few days.
Trinity Brewery – we ate out once in CS at Trinity Brewery from the advice of my friend Chris. It was awesome, fresh food, tons of vegan options and vegan dipping sauces and a great beer list if you're into brewers.
Grand Tetons National Park
While driving from Colorado Springs to GTNP we stopped in Fort Collins, CO at the Bean Cycle, a coffee shop and bookstore. Totally cute, with a great green tea latte. Go here!
GTNP is more magnificent than I can describe and so much prettier than any picture can display. We hiked the trails along Jenny Lake and the Taggart Loop trail. The scenery was incredible, and not many people were on the trails which made it so much more special. We stayed 2 nights at the Colter Bay RV park inside GTNP and I really recommend staying here, in the park. The bathrooms and showers were fine and you don't want to be spending your time driving here. Get out and hike as much as possible. One morning I woke up early and walked down to the lake to watch the sun come up over the Tetons. It was just me, a momma fox and her babies. No one was around. Truly magical.
Yellowstone
We thought we'd spend 4 nights in YS but decided 3 was enough. It was incredible, don't get me wrong, I'm just more turned on by the beauty of the southwest and was itching to get back to Colorado. I don't regret that decision. I read a lot of blogs before booking this trip and everyone says you need 4 nights. So if wildlife and geysers are your thing, do that. I prefer red rocks and hiking and hippies. 3 nights was perfect for us. We started out in Fishing Bridge RV park. Huge mistake. If you are into the outdoors do not stay here. Luckily someone just cancelled their trip and we got in at Canyon the last 2 nights. Canyon was beautiful, shaded spots, room for cooking outdoors and hanging outside. Stay in Yellowstone. It's huge, you don't want to stay outside the park and spend all your time driving.
YS highlights: the wildlife in the Lamar valley, specifically the bison, but the mama bears and their babies were really neat to see too. The bison were badass though.
Mammoth Falls was incredible, walk all around it. Grand Prismatic was really neat too. Old Faithful was cool but not my thing. For me, I prefer silence and hiking trails. Yellowstone does not offer much of this in prime season. It was spectacular, I really recommend going. Just know you'll be surrounded by people. And some badass bison.
Dinosaur National Monument
Even if you aren't into dinosaurs, if you're into any natural beauty this place will blow your mind. Really anywhere along the Colorado Plateau will blow your mind, but Dinosaur NM is pretty special. We drove from Yellowstone down south through Wyoming, stopping at Lotus Cafe in Jackson for some matcha tea and vegan muffins. I wish this place was in Texas, cute and friendly and artist made pottery and delicious vegan options. I was drooling. We then stopped at a freaking cute gas station grocery store in Jackson with fresh veggies and fruits and stocked up for the next week of our advwnture. The scenery along this drive is gorgeous, we wanted to stop every few miles to get out and hike, especially as we got closer to Utah. Once we were in Vernal, we were both freaking out. Vernal is not the kind of town you want to stop in, but the scenery is out of this world. Red rocks, swooping geologic formations, vast blue skies and green desert landscapes. Gorgeous. On to Green River Campground at Dinosaur NP. There are no showers here but the scenery is beautiful. Before the sun set, we drove along to see the petroglyphs and Josie's cabin. We were the only people within miles, and it was great to explore. Josie seemed like a damn cool woman, the kind of person who easily could've been friends with Georgia O'Keeffe. Love those outlier women and men who get away from society and do their own thing. Back at Green River, we camped along the river, had a fire and s'mores (if you're on the hunt for vegan marshmallows, check out the Dandies brand. I had to order them from Amazon but I'm sure some natural grocers have them in stock), and laid out under the stars. The night sky was pitch black and the stars filled the skies. The next morning was spent hiking in Dinosaur and looking at fossils. Not a bad way to spend a morning. Onward to Colorado!
Colorado National Monument
Holy cow, again, this part of our country is truly underrated. On our way we stopped at the Black Canyon of the Gunnison National Park. Unbelievable, and not crowded. We did not hike here as we didn't plan enough time but the scenery was worth the stop. On to CNM, loving its red rocks, beautiful vistas, great hiking, neat people, and close to the cute town of Grand Junction. We camped at Saddlehorn, again no showers, but incredible scenery. This was my favorite place to stay and I can't wait to come back and spend a week here. The vistas were truly unbelievable.
Mesa Verde National Park
So to get to this part of the country from GJ, you take the million dollar highway which is just ridiculous. The drive was beautiful but it was the scariest drive I've ever driven. I was covered, absolutely covered, in sweat when we pulled into Silverton. Thank everything in the world it was not raining or snowing or avalanching.
For this part of the trip we stayed in Durango in spot #12 at Lightner Creek Campgrounds which was a great place to camp. We were pretty beat when we arrived, and it was raining, so instead of cooking we went out to Gazpacho's, ate vegan green chili burgers and vegan gazpacho soup. The food was great and quite spicy which I love. Durango was cute and touristy, we walked around a little but the city didn't draw me in. For me the best part is its location to Mesa Verde, which was excellent. On the drive to MVNP, we stopped in Fahrenheit Coffee in Mancos for tea and coffee, go here! At MVNP, we went on the Cliff House tour and had a fantastic ranger leading the tour which made the whole experience great. It was neat seeing 1,000 year old dwellings and has made us even more curious about our country's past. We spent several hours at MV and loved every minute of it. Most of the park you can explore on your own but you do have to be on a tour to see three of the dwellings. As I've said we prefer hiking alone so we only went on one tour and explored the rest of the park solo. MV is a really easy drive from Durango and is not to be missed if you're in the area.
Onward to New Mexico, which ended up being my favorite part of the trip. The drive from Durango to Santa Fe was filled with more extreme beauty. We pulled into Echo Canyon north of Abiquiu for a few hours, chatted with locals, made some veggie tacos and took the short hike to the canyon. This was the beginning of what has started our new wanderlust for New Mexico. Pedernal mountain, where Georgia O'Keeffe's ashes were scattered, shines in black against the red surrounding hills. It's stunning. Driving past her homes at Ghost Ranch and Abiquiu, youre just filled with awe. There's no better way to describe it. The mountains of New Mexico are purely magical. We stopped at Ohori's Coffee in Santa Fe for a quick pick me up while we set out to find a place to camp.
Albuquerque
So we ended up at the Turquoise Trail Campgrounds outside of ABQ because we couldn't find anything better. The night sky was incredible, but the campground was just ok and the bathrooms were absolutely disgusting. I love ABQ and will try harder next time to find a better place to camp. Recommendations, anyone?
To begin this section of the trip, I have to say I've had a love affair with ABQ for years now. I grew up coming to this part of the country and always loved it. I was afraid I'd be disappointed visiting since my last real trip here was in my twenties, but I have to say I just love this place. It's so unassuming, is in dire need of rebranding (please don't let this happen) and doesn't seem to be filled with corporate America. And there's no major league sports teams and a huge public university and liberals and filled with every ethnicity you could imagine and tons of yoga studios and this was the first place in NA to start a school based on Ayurveda. I'm in love, can you tell? To end the trip we decided to stop cooking and just have some fun, so we ate out a ton:
Michael Thomas Coffee Roasters – best coffee and tea in the cutest coffee shop in an even cuter neighborhood. Everything is served on local potter Barb Miller's work. Beautiful!
Thai Vegan – incredible Thai, didn't miss the spice as the food was so flavorful. I ordered the tofu green curry and my husband ordered the "shrimp" noodle green curry and both were so good.
El Patio – I swore I would not eat everything that was served to me but good lord the food was so good. Again, don't weigh yourself when you get back from vacation. No judgment. The veggie plate can be made vegan with a bean and avocado taco smothered in green chile, with potatoes and bean taco on the side. It's spicy. And so freaking good.
Flying Star – their vegan veggie burger is very tasty and vegan double chocolate indulgence cake was so delicious we ordered one to go for the drive back to Texas. What a great idea that was.
On our last full day in ABQ we drove out to Tent Rocks National Monument which I feel fairly confident saying was the best part of the trip. I hiked here as a kid but did not remember how beautiful the alien-like formations are. It is gorgeous climbing to the top and looking out over the Sandia mountains.
To end our final night, I picked up a copy of the live music weekly, and noticed The Weepies were playing at the zoo that night, so we drove out to enjoy our final night under the stars listening to one of our favorite bands next to peacocks, ducks and a ton of Albuquerqueans. It was magical. And the best part? We ran into some old musician friends who my husband used to play for in Nashville. Nothing in life is random. Sometimes the world is singing you melodies and sometimes it's screaming at you. I'm pretty sure it's about time we listened.