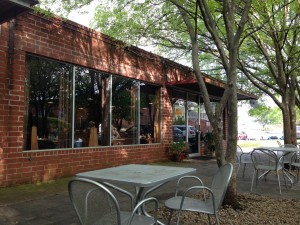 I just love college towns. I constantly ask myself why I no longer live in one. The independent shops, great restaurants, free-spirited atmosphere, juice bars, vegan options aplenty…what's not to love? I recently went on a girls' weekend to Athens and was pleasantly surprised by the community. We strolled through beautiful neighborhoods, lounged at restaurants, fell in love with the quaint Avid Bookshop (the photo of the owners' grandmother reading Rumi is the best!), walked through UGA's gorgeous campus (how is this a public university, and why did my public universities look nothing like this?? so beautiful), caught a movie at Cine, became addicted to the matcha lattes at Jittery Joe's, and spent hours walking and talking through the botanical gardens. It was a wonderful weekend and I highly recommend a visit to this town!
Ardens Garden – This juice bar was our first stop in Athens, you can order pretty much whatever you want for fresh juices and smoothies. We both ordered a spinach, pineapple and mango smoothie. It was great, as smoothies are, and I ordered the date balls to go. The date balls were awesome. Go here and get some. They have a lot of vegan snacks to go actually so this is a good place to stop in for a light lunch or snack.
The Grit – The menu at The Grit looked fabulous. I ordered the Golden Bowl – a heaping bowl of brown rice, nutritional yeast-crusted tofu and veggies. I will be cooking my tofu in nutritional yeast from now on after this meal. I don't know how I never thought of that before. The bowl was filling (I ordered the larger portion) and absolutely delicious, and better yet, helped me get to my daily portion of B12. I highly recommend this restaurant!
Big City Bread – Big City was so delicious we ate here twice, both for breakfast. I ordered the tofu veggie bowl both times, sautéed perfectly with spinach and fresh herbs, served alongside toast and I added a side of fresh grapefruit as well. This was a great meal to start the day! We grabbed a chocolate oatmeal cookie and a blueberry muffin to go, the muffin was moist but not too heavy. The outside area gets busy so if you get here fairly early you'll enjoy eating under twinkling lights on a delightful patio.
5 & 10 – This place wins an award for one of the most beautiful restaurants I've eaten at. It's located in an old victorian home in a beautiful neighborhood with a huge, sweeping front porch. We sat outside and enjoyed the weather and people watching. We started with the black eyed pea hummus which was creamy and had a great flavor to it. They don't advertise their vegan option so ask them what fresh veggies they have on hand. You won't be disappointed! They presented a colorful plate of sautéed mushrooms, fava beans, roasted beets and green beans. The meal was lovely, and they offered a tangy pina colada sorbet for dessert.