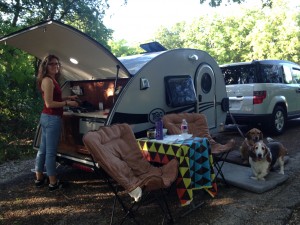 I have major wanderlust. It's a problem. I do want to travel overseas but I'm really in love with the land here in the U.S., especially our state and national parks, and want to travel to these places as often as possible. My husband stopped being a road musician a few years ago and he's now as eager to travel throughout the U.S. as I am. Which is very convenient.
For years now I've been following the bloggers Our Open Road and the Blonde Coyote, and pretty much once a week you'll find me daydreaming about quitting my job, selling all my possessions, and hitting the open road. I don't know what we'd do with all these drums and piano but I'm pretty sure nothing else in this house I'd be too sad to leave.
I don't know when it happened but sometime a few months back my husband decided we should buy a camper. All of our trips are to camping locations anyway, I always gripe about hotels and I'd always rather cook than eat out, and he doesn't like flying, so it made sense. Cost wise, if we bought a small one and found one used, we'd save money on future hotels, national park lodges, and eating out, and that was all he needed to know.
We started out by renting one for a week from Hitch and Go Adventures in Dallas. We immediately fell in love.
A few months of researching and scouring on Craigslist, and a 2015 Little Guy Tag Teardrop Trailer came up for sale in Florida. It had only been used once. Within a day, he contacted the seller, purchased it, and was driving out to Florida to pick it up.
To start, we've camped locally at Cedar Hill State Park and Lake Mineral Wells State Park but have many trips planned and cannot wait to put this baby to good use.
Stay tuned for more blogs on cooking vegan in a camper and slightly less on vegan restaurants!