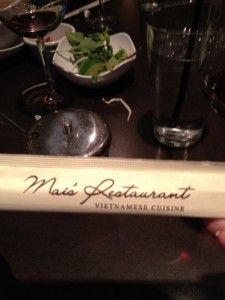 Houston is filled with some of the nicest, hardest working, and friendliest people I've ever met.  The diverse and creative population makes for many incredible restaurants, art galleries and museums. My favorite area is by Rice University, with the Rothko Chapel being one of the best pieces of architecture and art in the state of Texas.
Mai's Restaurant – this Vietnamese place is fancy, with two levels of seating options and definitely a good contender for a nice date night. They have a good assortment of tofu and vegetable dishes to choose from and are good about adding in a bit of spice.
Ruggles Green – their salads are huge and incredible, and most can be made vegan. Appetizers include lettuce wraps and hummus, and they offer a delicious veggie nut burger as well. Parking is a pain here but once you're inside this small cafe, the annoyance in getting here was worth it.
Green Cafe – same as the locations in San Antonio, this small chain is excellent with many vegan options and almost the whole menu can be made vegan.
Hobbit Cafe – this friendly neighborhood hangout offers a ton of sandwiches, wraps and tacos that can easily be made vegan, just beware their portions are huge.
Baba Yega's – I love this neighborhood restaurant with a great patio and huge vegan menu.  I ordered the arugula salad and black bean burger on my last visit, but there are so many options to choose from including vegan meatloaf, chickpea salad sandwich and a ton of salads, that I can't wait to get back.
Kiran's – Kiran's is a higher-end Indian restaurant close to Memorial Park, the Museum District, and many shopping and live music venues. We made reservations in advance and truly enjoyed our experience! They have several vegan options or vegan-editable dishes if you ask ahead. I enjoyed the samosas and Aloo Gobi which had the perfect amount of spice. This is a beautiful restaurant, perfect for a date or special night out, with excellent service, attentive waiters and meals filled with a delicious blend of spices and flavors.