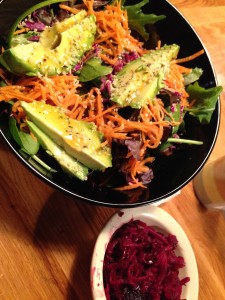 SAN ANTONIO UPDATE:
I just got back from a week in San Antonio this September 2018, and had an unbelievable amount of delicious food. However, my husband (non-vegan) and me (vegan) ended up at Hoppy Monk in North San Antonio a few nights ago and it was one of the best meals I have ever had (him, too – so your non-vegan friends will definitely dig). They have vegan cauliflower wings (get them) and vegan veggie tacos (there's no comparison – they shouldn't even be called tacos – they are out of this world) and local (and non-local) beers, and an incredible drink called the Goat Potus (if you like St. Germaine it does not disappoint). If your non vegan friends are with you I hear the hatch burger is the best damn burger on this earth. Go here before you go to any of the places listed below. Sit on their huge courtyard patio on a pretty night. It's right off the highway but the traffic noise is just part of it – the atmosphere here is incredible.
We went to Toro as well, and it was great, but Hoppy definitely blew us away. Toro has a vegan quinoa dish and a tomato/bread dish and a great, great, great wine list. And it's an absolutely adorable modern/hip bar/tiny restaurant.
I cannot wait for a trip back this awesome city. Now, read the rest of my recommendations (some from 2015, some from more recent) below!
---
San Antonio will surprise you in how lively, colorful and health-conscious this 2nd largest city in Texas is.  With unique neighborhoods, beautiful parks, a great farmer's market, a variety of vegan-friendly restaurants, good live music venues, and friendly locals, SA is one of my favorite cities to visit.
Green Vegetarian Cuisine – found in a few shopping centers around SA, Green offers great service and a wonderful assortment of vegetarian and vegan food options. I never head to SA anymore without a stop at this delicious restaurant! My favorite option on their breakfast menu choices is the Avocado Tofu Benedict (add extra spice if you like it hot) and favorite on their main course menu is their Quinoa Monk's Bowl (again with extra hot sauce) and their Chalupa – order it with kale! Anything on their menu can be made vegan, and they'll even tell you the protein amount of all their dishes. Beware they are closed on Saturdays so plan your trip around that!
Bliss – located in Southtown, Bliss is one of the best places to go on a date, with a beautifully designed restaurant and great patio. They offer one vegan option a night, whether it be a Mushroom Risotto or a Quinoa Vegetable platter, the flavors are incredible and plates are presented with an elegant attention to detail. On my last visit I ordered the risotto which was good and the kale squash salad which was unbelievable. The salad made the meal! Go here for a wonderful date night and enjoy the best customer service found in SA along with delicious dishes.
Liberty Bar – with a perfect location in an old Victorian home, on the edge of the King William District and Southtown's Blue Star Arts District, Liberty is a great place to stop in for a lunch, brunch or dinner while you're exploring one of SA's best neighborhoods. They will happily adjust many of their salads, sandwiches and appetizers to be vegan-friendly, including the delicious Portobello Mushroom sandwich and Vegetable sandwich. Their waitstaff is attentive and the restaurant is beautifully updated with bright colors and many seating options to choose from.
Urth Juice Bar – although the juice isn't prepared to order, this is a good place for juice on the go, with many fruit and veggie options to choose from in pre-packaged glass bottles.
Pearl Brewery Farmers Market – on Saturday mornings, the best place to begin your weekend is at the Pearl Brewery Farmers Market. The vendors include an assortment of local seasonal produce, herbs, breads, and so much more. This market is in a great location, and the shops are open during the market so you can pick up other gifts while you're out and about.
Señor Veggie –  also in Southtown, Senor Veggie has an awesome fresh menu and good but slow service. You can't go wrong with the Pesto Beet Burger or the Tofu Po Boy! On my last visit I ordered the vegan empanadas – holy smokes, order this!, followed by the beet burger. The burger was really good but the empanadas were what blew us away.
Vegeria – after many visits to San Antonio, I finally hit up Vegeria. It was so delicious that I decided to come here two nights in a row! It's right next to Viva Books which looks neat but closes at 5:30, so I was unable to check it out both nights. Vegeria is a small cafe with good service and fresh, delicious 100% vegan options. On my first night I ordered the BBQ cauliflower appetizer which were slightly spicy and really good. My entree was the La Pinata – a kale salad layered with avocado and sundried tomatoes. The salad had a creamy dressing and completely hit the spot. On night 2 I ordered the Gratitude Bowl which I just loved – layers of pinto beans, quinoa, spinach, avocado, hemp hearts, carrots and a honey mustard dressing. I tried the jalapeno slaw with it as my side as well. The salad was great and filling and I can't wait to come back on my next SA trip! This is one of the best all-vegan restaurants I've been to.