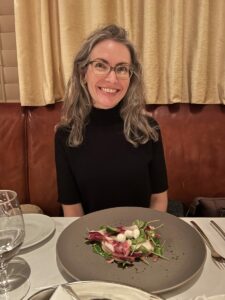 This one has been a long time coming, and it's so hard to limit it to only the top 10 fine dining vegan options in Santa Fe! THIS CITY. It stirs my heart and my soul, and my taste buds are in heaven. HOW DO YOU DO IT, SANTA FE!!??
I made a semi-announcement on my last post that my husband and I are moving closer and closer to calling NM home. We're half-way to that point now, splitting our time between Texas and New Mexico, and I have to say, I don't regret that decision for a minute. New Mexico is a dream come true – this state just brings tears to my eyes; it's rare for me to talk about the beauty here and not get choked up. I just love it. The scenery, the people, the artwork… and the FOOD! Seriously, there's no way to limit this to the top 10 fine dining vegan options in Santa Fe… I mean, there's too many. But here goes!
Please note: you have to ask for the vegan options at almost all of these restaurants! Speak up – kindly – if this is important to you and they will all happily work with you.
The Top 10 Fine Dining Vegan Options in Santa Fe
Arroyo Vino – holy moly, this is a new one for us and we can't stop going. The menu changes often which is so fun, and there's always a seasonal veggie on the app list and always a main course veggie option. All of it – really, all of it – is insane. You have to go, and go when the sun is setting as the views OMG – heaven.

Restaurant Martin – I don't know which of these is my favorite, Arroyo or Martin, but Restaurant Martin is a GEM. They have a veggie option every night and can make it vegan, just ask. The service is outstanding, which is normal for Santa Fe (the service here ROCKS) and even with that, I have to say, this place is the best of the best.

Santacafe – my husband's favorite, and it could easily be in my top-2 as well. They have several salads that can be vegan and I always order the mushroom pasta – which is not vegan, but close. If you're gonna have a cheat night, cheat here. Otherwise, the chef WILL make you a vegan entree, you just have to ask, and they'll happily do it (not like some places where I've literally had a waiter roll their eyes) – Santacafe is superb!

Coyote Cafe – Santacafe's sister is equally as good, although I prefer the dining room options at Santacafe as it's more intimate. However, the great part about Coyote is the tables are near each other and if you're of the friendly type, you'll definitely make friends here. It's a lovely restaurant with fantastic veggie options.

Joseph's Culinary Pub – Intimate and with seasonal veggie options, Joseph's is a true treat with little dining rooms, good service, and delicious meals.

Izanami – Oh wow how I love this place at Ten Thousand Waves. The vegan options are freaking awesome – note my husband did not love the meat options – but oh my gosh, if you're into veggies, and special, fancy places, GO HERE! I have not been to their spa, hot springs, or hotel, but hear they are all fab, too! So go spoil yourself and enjoy incredible mountain-top izakaya fare.

Andiamo – Fantastic Italian food, in a very intimate restaurant. Depending on where they sit you, you might leave with new friends, ha, but the food is fabulous and the service is sweet. The reviews here are mixed and I have not ever left leaving irritated – it's tight, yes, but know that going into it, relax and enjoy fantastic, fresh, locally-sourced Italian.

El Farol – With a few vegan options on the menu, and smaller, tapas-style dishes, you'll love the variety of tastes at this Spanish-inspired restaurant with Flamenco dancing and live entertainment! It's worth it even if you only go once – you'll have a night to always remember.

Geronimo – Definitely in my top 10 but not my top 5, Geronimo has great service and the food is top-notch. I didn't move it up simply because it feels a little high society for me – and yes, you can say that about any of these restaurants I'm sure, as they're fancy, this one just feels a little millionaire-centered. Fantastic food, don't get me wrong, and I'll definitely go back, and obviously recommend it!

Radish & Rye – it's hard for me to recommend this one as I despise most country music, like my soul erupts when I hear it, and they BLARE it, omg, it's just awful, but the food is quite good and the service is great and it's a really cute restaurant. So if you like country music, you'll love it here. If you don't like country music, bring your ear buds, try to bribe your server to turn the music off (as I did – and it failed), or stick with the top 9 of this list. 🙂

That's my current list of the top 10 fine dining vegan options in Santa Fe! Since we're here now, I'll be updating this with future visits (I cannot wait to try Luminaria, Terra (I hear it's the best place for a sunset meal), and Terracotta, for starters!). And if you want my FULL Santa Fe vegan restaurant list, look here!
What else would you add? Please email me at jen@ wayfaringvegan.com with your recommendations!
Love, Jen