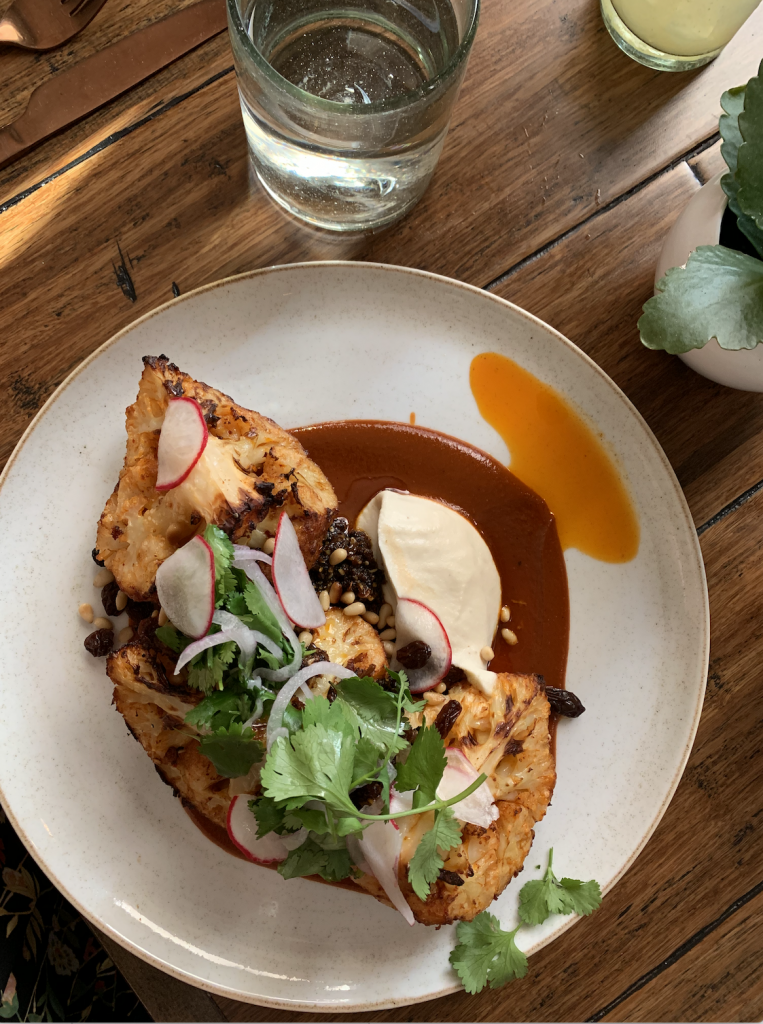 After a week-long trek to some of my favorite places throughout New Mexico and Texas, I realized with all the posts I've created on this blog about Santa Fe, not one lists the best vegan restaurants. Santa Fe does not disappoint with creative, healthy, intoxicating options, and it's one of my favorite places to travel to, whether I'm with friends, family, or traveling on my own. So, here you go: an overview of where to eat vegan in Santa Fe, New Mexico.
Originally posted in 2019, I am now updating this Best Vegan Restaurants Santa Fe list a few times each year, after every trip I take to this awesome city.
If you're looking for trip highlights and things to do in addition to the best vegan restaurants Santa Fe, click on these links or search the New Mexico page for even more vegan and travel tips both on this city, Albuquerque, Abiquiu, and more.
A few things to note: we try to stay away from the Santa Fe Plaza as much as possible. Aside from the museums and Cafe Pasqual's, I prefer to venture mostly to the outskirts, as the Plaza can be packed with tourists, and the food is really not the best the city has to offer. In the evenings, it's great to walk around because Santa Fe, like me, prefers to turn in early – the Plaza will be empty by 8 p.m. Daytime, in my opinion, it's best to avoid.
Alright, let's get to it: The Best Vegan Restaurants Santa Fe.
Eating Vegan in Santa Fe: The Best Vegan Restaurants Santa Fe
Horno – oh my goodness how did I JUST find out about this place? Santa Fe is doing a vegan menu item challenge this month (Feb 2023) and this restaurant turned up on the list, and so we went, and OMG what??? How is food this good? I got the vegan dumplings and my husband got the yellowfish and we both are going back this week, reservations already made. HOLY SMOKES. Go to Horno! And side note: make reservations – it is PACKED every night of the week.
Paloma – Get the cauliflower dish, and the salsa/guac appetizer. They also have a lot of yummy non-alcoholic beverages too, which is my preference these days. If you're into that, the grapefruit soda and the ginger soda are both delicious and made fresh in house. The dining room is gorgeous and colorful, the service is excellent, the patio is super cute.
Cafe Pasquals – best place for brunch and they'll sub tofu for eggs in most dishes. Be prepared for a long wait as this is close to the Plaza, yet the food and decor is worth it!
La Choza – they have a delicious vegan posole, a fairly good vegan tostada, and my husband says their fish tacos are the best he's ever had. Great service and tons of locals; definitely worth your stop. On the days that I am drinking booze, their margaritas and their bar are fantastic to partake in. On the days that I am not, their colorful dining room is a fun and relaxing place to spend an hour.
If you want to all-out splurge (it's hard not to here, and you're on vacation for goodness sake) then GO TO SANTACAFE and sit on the heated patio and order everything they will possibly make for you. Get wine, stay awhile, and tell me if this is not the best meal you have ever had. Then, the next night, do the same at their sister restaurant Coyote Cafe. You have to ask for vegan as they don't offer it on the menu, which is a bummer. But oh my gosh. 5 star, James Beard, best of, you name it – these restaurants get it, and for good reason. They are so good you might just buy a home in the Land of Enchantment. Just me?? (P.S. – if you want my full list of the fancy places to hit up, look here!)
One more for splurging that you will absolutely not regret – Restaurant Martin. Oh my word. Ask for the veggie plate and sit back and let your taste buds explode! Killer service, a James Beard award-winning chef, a great wine list, fantastic food – and you really get to know your servers here which I just love. What a gem of a restaurant!
Jambo Cafe – incredible curries and absolutely delicious veggie finds. Definitely add this place to your trip itinerary; they have a little store next door that sells African imports, too.
Paper Dosa – the dosa "appetizers" were incredible, and huge (really they are main dishes but I wanted to try a lot of food so treated them as appetizers). I wasn't blown away by the veggie curry; it was super heavy and the veggies didn't seem cooked all the way; so maybe order something else. Much of the menu is vegan or can be made vegan, they have a pretty patio and great service. The dosas are worth the try if nothing else! And they also have house-made sodas – the ginger is great! The tamarind soda, we were not so into. 🙂
Sweetwater Harvest Kitchen – really cute dining room and awesome vegan seasonal options. I've only been here solo, but it would be a fun place to meet friends, too. It's a sweet restaurant with great service.
Joseph's Pub – I love this homey space! They have fantastic veggie options and many of their dinner entrees can be made vegan. Joseph's is great for a date night or special occasion. Note though that they do not have a full bar – but they do have a great wine selection!
Modern General is great for fresh juices (and it's cute, to boot, annnnd they have a monthly book club, swoon)
Vinaigrette is good for fresh salads. I will say that it's kinda hard to find great salads in Santa Fe. That's crazy, right?? But it seems to be true. That's where Vinaigrette comes in. Their salads are hit or miss, so give it a few tries if you haven't quite found one you like yet. I will hopefully be able to add more salad restaurants to my best vegan restaurants Santa Fe list in the years to come.
Annapurna's World Vegetarian Cafe – I go to New Mexico A LOT and travel there by myself A LOT and on every single solo trip I've gone on, I've stopped by Annapurna's for a meal. It's Ayurvedic food for healing more than food for taste, although the taste and freshness is definitely there. They have a location in Santa Fe and one in Albuquerque. I have found, that after a long day of travel, nothing is better to calm my travel gut than food from Annapurna. They are on Door Dash so I get it delivered to my hotel and relax with a book and warm meal.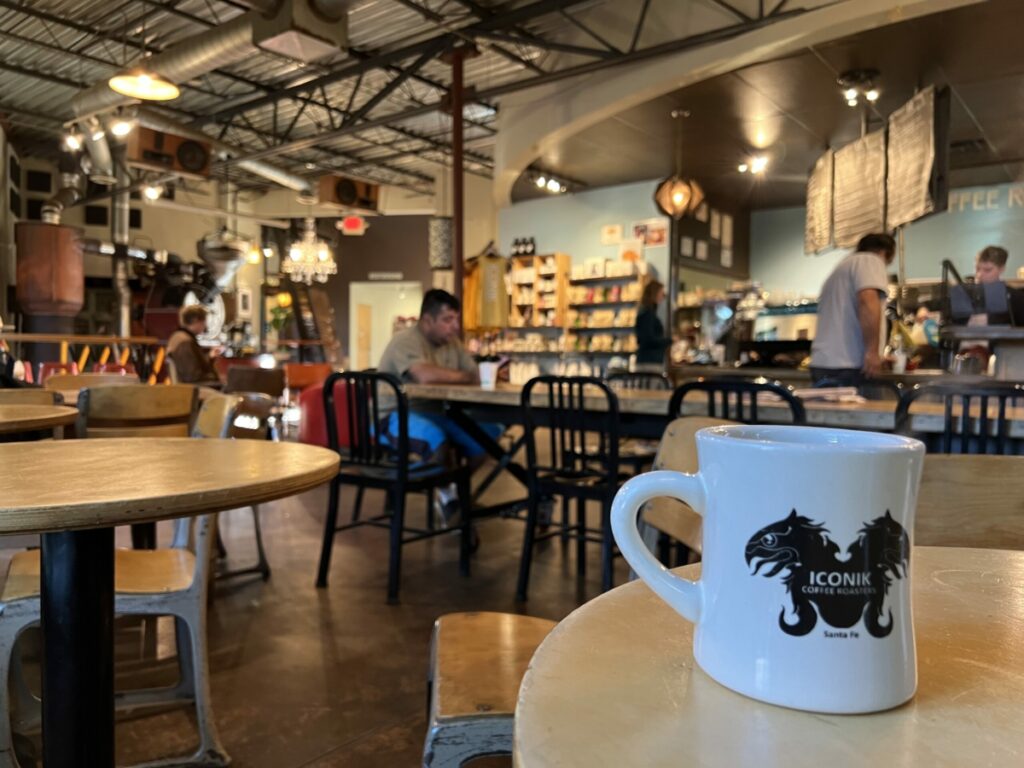 Iconik Coffee – they have 2 locations, and both are worth visiting. The one on Lupe is attached to a coworking space, and they have Dukkah Toast and OMG I cannot list the best vegan restaurants Santa Fe without mentioning this toast. Hot Damn. Their coffee is really good too, like the coffee from the thermos – it's GOOD. They have a full barista station too and that seems to be what most people order, but I have to say, their thermos coffee is some of the best coffee shop coffee I've had!
Ikonik's location on Lena does not offer the Dukkah Toast (WHYYYYYYYYYY) but they have delicious bowls and they will make them all vegan. This location is actually cuter because it's near a pottery studio, a meditation studio, a vegan bakery, a vegetarian cafe, and so much more. There's a super pretty garden that you walk through to get to the front. It's just lovely, in a really cool area. I recommend this one, even without the toast. Maybe if enough of us ask for it, they'll add it to their menu. 🙂
Rowley Farmhouse Ales – this amazing brewery has a great outdoor patio (pup friendly) and great vegan burgers – along with great beer! I love coming here and relaxing and meeting a few locals. Don't pass this place up!
Teahouse – at the end of Canyon Road sits a lovely teahouse and restaurant serving fresh and delicious vegetarian and vegan soups, salads, lentil dishes, appetizers, and so much more. I've been here a handful of times over the years and have never been disappointed! Sitting outside is lovely, sitting inside gets you a view of the intimate little rooms. There's often a wait, so come early, and just like everywhere in Santa Fe, don't be in a rush. Canyon Road is not to be missed if you even remotely like looking at art, and the Teahouse is the best place to sit down and enjoy great food on your journey.
Kakawa is delicious for chocolates and elixirs. Definitely go here, enjoy chocolate concoctions in their colorful pottery, and just try to not take some home with you. This place will not come up in many "best vegan restaurants Santa Fe" searches, but many of their chocolates are vegan! Just ask!!
The Farmer's Market! One of the yummiest ways to spend your Saturday morning is to meet the famers, bakers, and coffee roasters selling their goods in the Railyards. And artists will be present, too! You might even hear the assortment of marimba players at the edge of the market which is SUCH a fun thing to see and hear.
Please note: dogs are not allowed at the market! Don't make this mistake like I have. 🙂
Note: for lunch and dinner, I would avoid Bumble Bees and Tune-Up. I wasn't taken away by either of them, and there's too many other places to try. They come up often in "best vegan restaurants Santa Fe" searches in this city so I am mentioning for those who resort to Google. Also, Thai Vegan closed – waaah – but their ABQ location looks like it is still open.
P.S. – I'll keep this Best Vegan Restaurants Santa Fe list updated with each of my trips there, and since many of y'all reading this know me, of course I already have my next trip planned. 🙂
Enjoy! And let me know what you think!
Love, Jen.