We have friends who spent their honeymoon in Yosemite National Park. They are both professional musicians, and had to fly back to Nashville after their week adventure to play their weekend gigs. As soon as their gigs were over, they flew back to Yosemite, and spent several more days there. That's how beautiful Yosemite is; you simply can't get enough.
When they told me that over a decade ago, I thought, that's the coolest thing I have ever heard. I LOVE that. Live in the moment and rejoice in the absolute beauty of our country. What an incredible place to spend a honeymoon, and how cool that they simply couldn't get enough, so much so that they immediately, a few short days later, flew back. Ever since then, I've thought, we've got to get out to Yosemite.
We finally did.
Let me preface this by saying, I plan too many things. I do this in my personal life, in my business life, and on vacations. It's probably the thing my husband and I fight about the most. I am non-stop go go go, and he is way, way, more chill: go with the flow, be steady, just let things be.
Also, I am the one who plans our vacations. He has a say for sure in what he wants to do, but he lets me plan. So I go with it, and sometimes (meaning all the time), I plan too much.
We haven't had a vacation in almost two years, and this is coming from the couple who travels for fun at least 3-4 times a year. I love to travel. It is the only thing I want to spend my money on. And I love being in the mountains, more than anywhere else on earth. When I quit corporate America, I thought, this is awesome, I'll set my own schedule, and we can go whenever we want, wherever we want. As long as we have our laptops, we can work from anywhere.
That did not happen, for all sorts of reasons.
So, I decided, we haven't taken a trip together in so long, let's plan 2 weeks, and go to California. We'll spend a week in Sonoma and the areas north of San Francisco, and then a week in Yosemite, Kings Canyon and Sequoia National Parks. Perfect. It'll be relaxing and gorgeous, it'll be perfect.
And it was.
And it was also, a bit too much.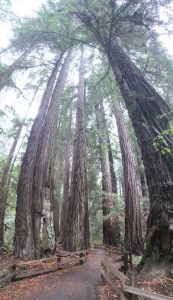 MILL VALLEY, CA
We landed in San Francisco and headed straight to Mill Valley. It's a gorgeous walkable town, and our hotel was right on the walking and biking trails that led to a great coffee shop among many other cafes and boutiques, in the middle of some of the prettiest pieces of land: the Pacific Coast, Muir Woods National Monument, Marin County. After coffee, we headed straight to Muir Woods and were blown the heck away by the redwood trees: the trees at Muir Woods are the tallest on earth. Yep. They're incredible. It rained while we were there, very lightly, and it was the prettiest rain I had ever seen: it literally dropped like huge translucent pearls through the tall tree branches. Absolute beauty. There's a ton of trails nearby that go out to the coast, but the coast was way too foggy, so after spending several hours in awe at Muir Woods, we headed on to Sonoma.
SONOMA, CA
Sonoma is the place where you blow all the money you saved for your vacation. The food is outstanding (more on this below), the wine even more so, the people are great, the city is totally walkable, there's hiking trails and the hotels are super, super nice. It's total luxury. And it's way, way, better than Napa. Holy smokes, you guys, don't go to Napa. Go to Sonoma (I feel like these are fighting words and I don't mean them to be, but seriously, Sonoma is freaking cute and Napa feels like corporate America). We spent three nights in Sonoma, which was the perfect amount of time. I love red wine, but I don't ever want to drink red wine again. I don't even feel like we drank that much, but the tastings make you feel like you're drinking so much more than you are. I'm not sure if it's the combination of the wines or the awkwardness in getting these little baby pours and then having to wait around for the next pour, or what, but their wine will get you totally tipsy. It was fun, though, and the scenery and vineyards were out of this world.
YOSEMITE NATIONAL PARK
Next, we drove to Yosemite. It's about 4 hours from Sonoma, and the last part of the drive is truly stunning. The first part of the drive is as rural as it gets: drive fast, and don't stop. Due to the fires and our lodge evacuating, we stayed a little outside of the park in Ahwanee, in a really nice cottage set on 40 acres with 6 other cottages. It was gorgeous. It was also 2 hours from the park.
And that's where I learned my lesson. I would think I would have learned this before: I've been to a lot of National Parks. I love our National Parks. But they are so damn huge. And you are stuck in the car so, so much, unless you can stay in the park. So, friends, stay in this park. Do not, I repeat, do not, stay anywhere outside of the park. This means you have to book (and plan) about a year in advance. Do that.
Yosemite is probably the most blown away I have ever felt. There's no way to describe the size of the mountains, the color of the trees, the water flowing. There's no way. It's unbelievable. It will bring you to tears. Thankfully, we couldn't sleep at the cottage, so we woke up crazy early and ended up leaving our cabin before 5 a.m. to head into the park, which means we got there right at 7 a.m., when the sun was rising. That's the only way you will skip the crowds. It's the best way to see the park. And the stars, oh my god, I thought the stars at Big Bend NP were incredible. These stars…wow. And the sunrise in the park…just, wow. The stillness in the air, and the beauty of it all, even the beauty in the fires and the smoke; even they were phenomenal.
We spent one full day in the park, two nights in the cabins. We couldn't decide what to do next. We were supposed to spend two more nights at Yosemite originally, before our lodge was evacuated, but the cottage we ended up in last minute was not available for the remainder of the week. And then we were supposed to head to Kings Canyon and Sequoia. But the amount of driving felt overwhelming, the parks are far apart, and where you stay, if you can't budget in the park lodging (it's dang pricey) or if it's full, it's far. We're talking, 2 hours each day driving to the hiking trail, and 2 hours back to your lodging, and that's if you're not behind a slow driver, or tons of slow drivers. Coming from Sonoma, it all felt like too much.
So, we decided to come back home a week early. And we decided to plan a trip to only Yosemite, Kings, and Sequoia. To not tie it in with anything else. To not go from the luxury of Sonoma to the rustic mountains of the National Parks. And to make sure we can stay in the parks. So, we will. Soon.
I'm not upset by it. It was a great trip. I had no idea what to expect, but many of my friends over the years have been encouraging me to go, go, go to that park. And to go now, while I'm still young and while my bones still allow me to hike.
So I'm telling you: go, now.
I have a lot of American friends who have travelled all over our world but who have not gone to the Grand Canyon. To Yellowstone. To Yosemite. To the Smoky Mountains. Travel all you want, do it, for real, but this land that we're lucky enough to live on, go see it. Go see it especially before our disgusting POS administration tries to take it away from us (yep, I had to throw that in there). Go see it before you get too old and your bones hurt too much to get out of the car, and hike as many trails as you can, and see all you can see. Smell the air, look at the stars, hear the wildlife, soak it all in. Go rejoice in this land, this land that is our land: the only thing that will outlive all of us, outlive all of our homes and couches and cars and all the things we think we cherish in life. None of that matters. None of that holds a candle to the land in this country. Go see it.
DINING/DRINKING OVERVIEW
SONOMA, CA
I have already said you will spend all of your money in this city. Holy smokes, it's expensive. Thankfully we used credit card points for all of the lodging and flights and car rentals, so all of our money went to food and wine. This is where we went:
WINES/WINERIES/VINEYARDS:
Enkidu – this is the first tasting we had, and it was the best. Their pinot noirs are outstanding. It's right on the Sonoma Plaza, within walking distance from everything. Paul runs the tasting room, and he's fabulous – he'll give you all the info (or none) that you want, without being pretentious. They also have a cool logo and story behind their name/branding, so check them out!
La Rochelle – Paul recommended this place (we asked for another non-pretentious winery to go to in Sonoma) and it was good. We decided to go to it because they mentioned one of our favorite scenes from Sideways on their website (really, which scene in Sideways is not our favorite?). The wines were good, especially the pinots. The land is pretty and it's right by a ton of other vineyards that you can taste at, if you want. I don't see how anyone could handle more than one tasting a day, but if you're into that, by all means, go for it.
Benzinger – We went here because the biodynamic processing is fascinating to me (they're all organic, like really organic, not the marketing term, but for real). I did not like their wines at all, like I could barely drink a sip of each glass. But the vineyard and the biodynamic tour was totally worth it. This was the only tour we went on, and I'm glad we did.
FOOD:
Delhi Belly – After every single bite, we either said "wow" or "oh my god". Not kidding. The food is outstanding. I've always said the best Indian food I've ever had is in Houston and that is no longer true. The best Indian food, hands down, is at Delhi Belly (I need to also say that I've never been to India so this is truly an ignorant American opinion). They have a vegan menu, and their samosas and Aloo Gobi are both fully vegan. For the love, the flavors are incredible. If we had not waited until our last night to eat here, we would have gone back. Go here!
Hopmonk Tavern – Recommended by a friend, and now I'm passing it on – this is a beer garden with really great food. They also have samosas, and a vegan kale salad, both are great. Tons of beers and wine and mixed drinks, and a huge patio, and all the locals go here. It was delicious, and fun.
Red Grape – Vegan pizzas (hold the cheese) and salads (hold the cheese) and of course, a good wine selection, and a really nice patio. This was recommended by a very cute yoga studio and I'm glad they suggested it – it's a great place to relax and people watch. Lots of locals too.
Tasca Tasca – this is a tapas place with a few vegan options (be careful when ordering to be sure) and a good wine list although the wine is served in drinking glasses which is very strange. The food and vibe here is good though.
The rest of our meals were at our hotel (free breakfast) and courtesy of Whole Foods in Sonoma – we always stock up when we can and most certainly did so here to outset some of the eating out costs.
OAKHURST, CA
South Gate Brewing Company: The food here is a little bit better than bar food. They have a vegan burger and vegan hummus and a few vegan salads, and a good beer selection. For the most part at Yosemite, we ate at our cabin (there's a few grocery stores in Oakhurst), but went out twice to this place because it had a vegan menu, and good beers, and neither of us wanted to drink wine after Sonoma (we still don't).
SaveSave