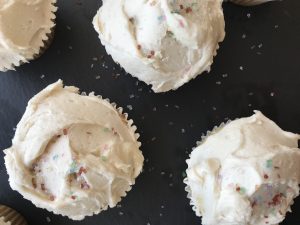 My husband and I opened a senior living design & marketing business over 2 years ago (I can't believe it's been that long) and several times since have sat down to go through our company's WHY. I've been a big fan of Simon Sinek for nearly a decade now, and my husband is into anything strategy and mission related, so these WHY meetings are a lot of fun, and also a bit of frustration, ending with a deeper understanding of who we are and why we do this for our work.
Going through the steps of coming up with a WHY is probably the most important – and challenging – task you can take. It was for me, at least. I wanted all the answers to be my gut instincts, and often left them at that. It's not comfortable for me to take the time to drill and drill and drill until finding the reason for doing the things I do. My husband is not one to give up or stop before an idea is hatched, and honestly he's a much deeper thinker than I am, so he's an excellent person to have around for this type of process, and a fantastic business partner to boot.
I won't go into all the details of our company or how we got to our WHY over 2 years ago and how that WHY has been modified after much contemplation. But I will say, my personal WHY and my company's WHY are essentially the same. That was a really neat moment to experience, and it made me realize this path that I'm on is the right one, even when so many times it feels like a sinkhole.
My WHY is COMMUNITY. Whole-heartedly, 100%, community. It's why I teach yoga, and it's why I work with senior living companies. It's why I write this blog and offer my recipes. If we don't have a community, we falter. If we don't have a community, we experience loneliness and depression, our health declines, our reason for being is interrupted.
A few big things happened this month. I turned 38, and wrote about my decision to not have children, an incredibly hard one at that. With that, I received an outpouring of support and of me toos. I don't know what I was expecting, but I did not think the COMMUNITY of women around me would speak up so much. I'm so grateful.
At the same time, the hardest news for me is that my prized Vinyasa + Meditation class is going away. I call my Sunday morning classes my yoga church, and I've been leading a Sunday morning yoga class for nearly 2 years. When I say I devote my heart into my classes, I mean nothing less. Each class is different, with new poses, new music, new sequencing, new everything. I never repeat because I simply can't imagine teaching the same thing day after day, and as a student, I hate going to the same class over and over. I need variation, so I teach variation. I teach the class I would want to take.
So literally, two days apart from each other, I won a community of women in similar situations as me, and I lost a community that I absolutely adore. I'm sitting with that, and trying to contain my emotions about both communities. It's not easy, this life. It's not easy to make decisions that could alter everything (such as my last post) and it's not easy to have something I cherish taken away, even if, as a small business owner myself, I understand fully the business side of things.
I know how the world works. When one thing leaves, eventually, something new replaces it. It's out of my control, and I can't tell you how much that annoys me. I also know that my COMMUNITY will be here no matter what, because I both create that, and I allow that, whole-heartedly. In my journal these past several days I have focused on that – my community, my treasures, my teachings, what I have learned as a student on this path of life. It helps to write and helps to sit, to fully experience uncomfortable emotions when I'd much rather focus on other things. It helps to remind me that this life is out of my control, as much as I want to manage it and steer it on certain paths. This is a good reminder that just because one community is taken away doesn't mean that the full essence of community is lost. There's always the chance to experience new beginnings.
---
Speaking of new beginnings, we have a new person on our team, and her birthday was this week. She said she loved white wedding cake and so I made these vegan white cupcakes for her. Oh my gosh, they are so good. Another cool thing? I met her because of my prized yoga community, the community I love deeply. What a nice world it is when we choose to say yes, to accept the path we're on, to know that the right people come in at the right moments, yes?
Love, Jen.
SaveSave
SaveSave
SaveSave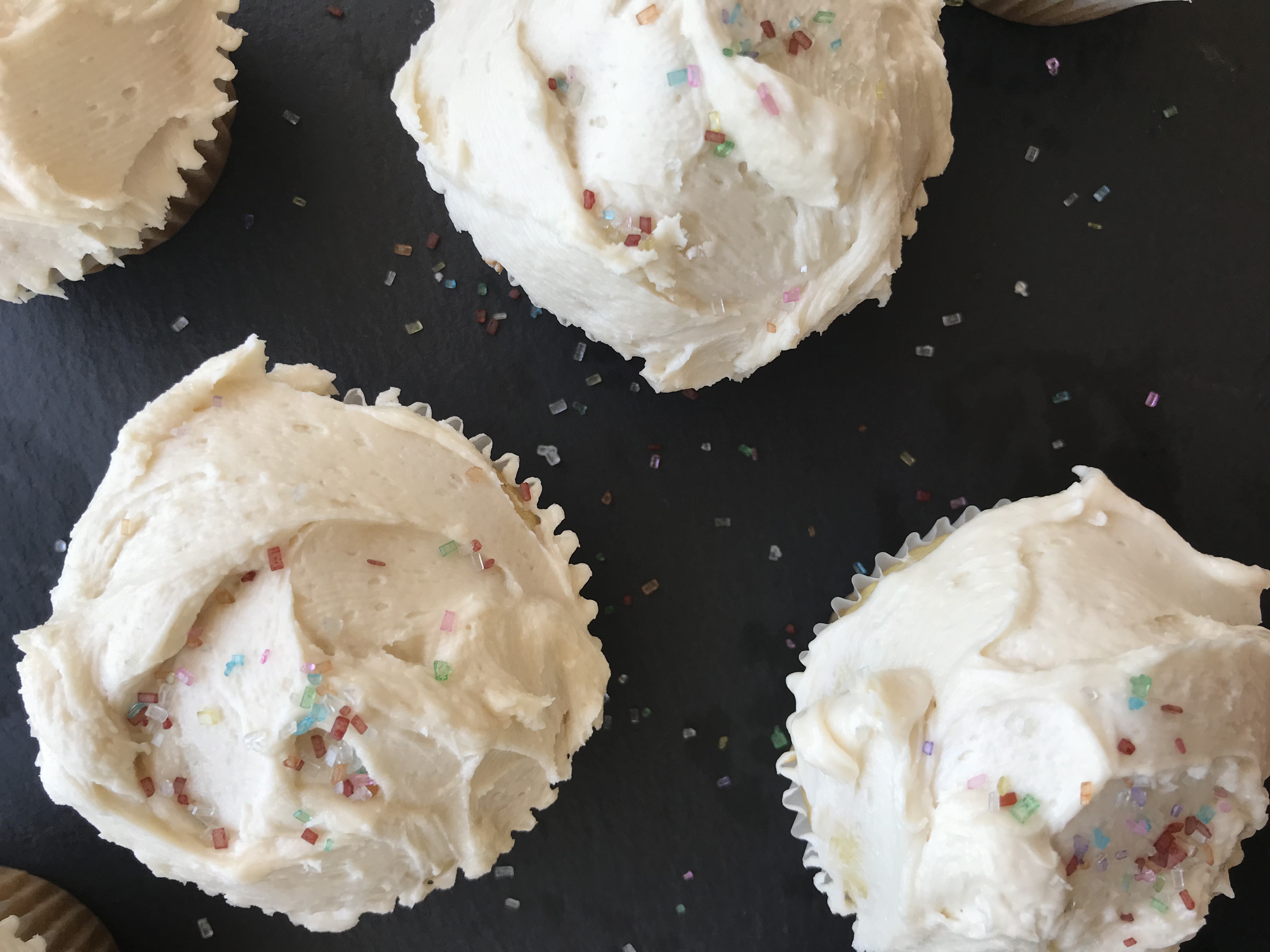 A Community with Vegan White Cupcakes & Almond Buttercream Frosting
Ingredients
White Cake
1/3

c.

coconut oil

melted and slightly cooled

2 and 3/4

c.

white cake flour

1/2

tbsp.

baking powder

1

tsp.

baking soda

1/2

tsp.

salt

1 and 1/2

c.

almond milk

1 and 1/4

c.

natural cane sugar

2

tsp.

almond extract

1

tsp.

vanilla extract
Almond Buttercream Frosting
3/4

c.

vegan butter

3

c.

powdered sugar

1

tsp.

almond extract

1

tsp.

vanilla extract

1

tsp.

almond milk
Instructions
White Cake Batter
Heat your oven to 340 degrees and line 2 cupcake tins with paper liners.

Heat the coconut oil over low heat until melted, set aside.

In a large bowl, combine the flour, powder, soda and salt.

In a medium bowl, combine the milk, sugar, oil, and extracts. Slowly pour this mixture into the large bowl, removing as many large clumps as possible.

Spoon the batter into the tins, filling about 3/4 of the way to the top.

Bake at 340 for 25 minutes, until a toothpick inserted in the center of a cupcake comes out clean.

Cool completely - for at least an hour.
Icing
In a medium bowl, using a hand mixer, combine the butter with the powdered sugar, 1/2 cup at a time, until all is combined. Add the extracts and milk during this process to help the ingredients combine.

Spread the icing on the cupcakes, top with sprinkles if desired, and try not to eat them all in one sitting.
Notes
Note: this makes a great cake too! Pour the batter into one round cake pan and bake at 340 degrees for 40-50 minutes, until a toothpick comes out clean.
Note #2: Your oven temp may vary! I tend to always do better with cakes if I keep the temp at 340. Do what works best for you and your oven.