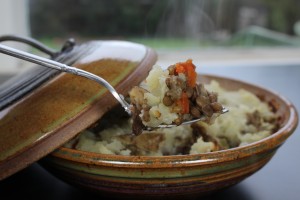 My husband and I lived in East Nashville in the late 2000's and frequented the Family Wash on an incredibly often occasion. Most of our friends including ourselves could walk or drive a few blocks to the Wash, back at its old location on Greenwood Ave, so we had many a raucous evening eating shepherd's pies and drinking pints of Yazoo beer. Although we loved their special pie 'n' pint night, we'd prefer to order the veggie pies to go, make a huge bonfire at home, invite our friends and neighbors over, and stay up all night.
These days I've calmed down quite a bit, and really there aren't too many walkable restaurants, bars or music venues close to our home in North Texas, which might be good in the long run for our pocket book and overall health. But making shepherd's pie has gotten me reminiscent for all those nights by the bonfire, filled with laughter and too much booze, great music and so many good friends. It's crazy how drastically different your life can change in a 5 year timespan.
It was 5 years ago last month that we made the move back to Texas, to the state where we met and fell in love. I left kicking and screaming, knowing inside that I needed to leave but not wanting to move away from friends and the neighborhood I loved so much. Since we've made the move, we've discussed every year about leaving our current city, finding a place more liberal, more creative, with more independent restaurants and less monster pickup trucks. Austin was the chosen location for us – I do love Texas and love the hill country, we camp around Austin often and love the food and live music scene. So it made sense. And we almost made the move, gave up everything we had here, hit the road. We came so, so close.
One thing you learn in yoga and in meditation is to sit with discomfort. To look at yourself and discover the parts that annoy you. For me, it's running. I'm a runner, hands down. When I don't like something, I hit the road. I have never enjoyed sitting with discomfort. Don't like the house I live in? Let's move to another. Don't like the city? Get out of here. Sick of that job? Move on. These are not always bad moves. But sometimes you need to sit with discomfort. Sometimes sitting with discomfort is the answer to life's problems. Sometimes you create your own problems. The person you project is the person you receive. So you can be negative about your city and guess what, you only see the parts that suck. Or you can learn to sit with discomfort for awhile, you can learn to relax. You can breathe into the pain. You can calm your monkey mind. And eventually, your outlook shifts. Your perception of the world begins to shift. And you start to draw more likeminded people to you. If you learn to relax into life, into the current pose you are in, the world will open up to you.
It's good to reflect on what you've learned and to see how far you've come. For me, I'm softer, more open, I'm able to be a better friend. I'm projecting happiness. It's my choice, and I choose happiness. I loved my past life, filled with shepherd's pies and beer and so many friends and a truly great music scene. I can reminisce about those days, but I don't miss them. Sitting with discomfort – and learning to live in the now – it changes your whole outlook. It improves your life.
The best part about the shepherd's pies at the Wash was being able to order them with or without garlic (the correct answer is with). So I made my version based on that one special rule: include a lot of garlic. This features a layer of lentil/veggie mixture, followed by a layer of sliced garlic, and then topped with mashed potatoes. This is a very healthy version as I didn't add any vegan butter or oil, and I don't think you'll miss either ingredient. I hope you make these before it gets too warm out. Invite your friends over, turn up the music, light a bonfire on a cool night, and dig in. Enjoy the moment, and project happiness.
Bonfire Vegan Shepherd's Pie
Ingredients
2

russet potatoes

1

c.

green lentils

1

shallot

1/2

onion, white

5

cloves

garlic

4

carrots

3

celery stalks

16

oz.

baby bella mushrooms

1/2

c.

almond milk, unsweetened

1/2

tsp.

salt

1

tsp.

rosemary, dried
Instructions
Heat the oven to 400 degrees.

Clean the potatoes and chop them into 1" slices. Bring a large pot of water to boil, and add the potatoes. Cook for about 20 minutes or until fork tender. Drain and set aside.

While the potatoes are cooking, rinse and drain the lentils. Place in a medium size pot, cover with 3 c. of water, and bring to a boil. Lower the heat, and simmer for about 20 minutes.

While the lentils and potatoes are cooking, dice the onion, garlic and shallot. Heat on medium for about 7 minutes.

Peel and dice the carrots, and dice the celery. Add to the onion mixture and cook for 5 minutes.

Slice the mushrooms and add to the onion mixture. Cook for an additional 5 minutes.

Stir in the lentils and the rosemary, heat through, and then remove from heat and scoop into your casserole dish.

Thinly slice the remaining 4 cloves of garlic and place the slices on top of the lentil mixture, evenly covering the top of the casserole.

Place the potatoes in a large bowl. Add the salt and almond milk, and mash well. Scoop the potatoes on top of the garlic layer, and press evenly over entire casserole.

Cover and cook for 35 minutes, until the edges of the potatoes are slightly crisp.
Notes
The casserole dish, and most of the pottery featured on this site, is made by master potter Jef Barton. This is not an advertisement. But if you love pottery, you should seek his work out.