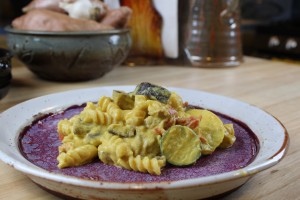 "I used to think that what was important in life was being important. And then I realized what is important in life is helping others." ~ Dorothy, 93 years old, Melbourne, Florida
I've spent the past 10 years of my life running marketing, advertising and creative campaigns for senior living communities. The first 4 years I was on a huge team of people working for a huge company and I did a few small tasks: manage the team of account executives, get the communities what they need, make sure people are calling and acting on our ads. It was a great group of people and I am still incredibly close with many of them today. For the past 5+ years, I've led various initiatives in advertising and marketing, from coming up with community and corporate identities, names and branding, to writing copy, to designing advertising, to leading online initiatives, to arranging resident surveys and putting lifestyle initiatives into place, to managing and holding testimonial interviews, to so much more. It looks great on paper, and I would be lying if I said this job did not feed my ego and make me proud of everything I've accomplished.
But after all is said and done, at the end of the day, what I am most proud of is every interaction I have had with seniors. My heart, my life, my soul has been opened thanks to the senior men and women who have come into my life. I've cried with husbands who have lost their wives after 74 years of marriage. 74 years of marriage. 74. Reflect on that for a minute…
I've held the hands of adult children who are choking up over their words, explaining to me about the challenges of their parents who no longer recognize them. I've laughed at many an inappropriate penis joke coming from so many men, and women, who now feel open and able to let their true selves shine. No more living up to an identity. At 95, you can just be you. It's freeing, and I see it day in and day out.
I've gone along with so, so many women and men who think I am their daughter, or granddaughter. I've comforted. I've cried. I've had the wind knocked out of me, over and over again. I've spent many a moment speechless, with goosebumps, not able to speak another word, for the beauty I have just witnessed. I've seen women who no longer remember their name, perform a piece of Mozart by heart, without reading a single note, from start to finish. I've seen so many tears. And so much laughter. I've experienced more with strangers than I have ever experienced with my own family. I've seen aides clean bedpans with a smile on their face. I've seen coworkers break the news to loved ones about dementia, or death. I've seen what it means to live a full life.
And every day I am with them, I learn more. I get life more. I become more empathetic. We can disagree all day long. The seniors in my life are incredibly religious, which I have always had a hard time with. And they are mostly conservative, which I also have a very hard time with. And they love bacon. They often joke with me about how much they love bacon, and how I can't possibly get the correct amount of protein or calcium on a vegan diet. I sit in silence with most of these discussions; I've learned it's best to listen for much of life's battles. But we agree on so much. We agree on all of the important things. Really, religion and politics don't matter in life. What matters is your heart. Do you love, do you share, do you live by not judging others? Are you open to life? Are you here to give and not receive? Will you hold my hand when I am having a bad day? Will you know that I am having a bad day without me having to say anything? Then we are one. We are all one. We are beauty and life and love and peace and dirt and grime and laughter and babies and old men. We are all of it, all wrapped up in these weird bodies that we'll never fully understand, not with all the science and all the technology in the world. We are all connected.
I don't know how I ended up in senior living. It was not what I was after, and in all honesty I never knew what I was after. I just wanted to be creative, and I've always loved people. I've always been fascinated by why people do the things they do. With all the choices we have in life, why did you choose that one thing? I can think on that question for hours on end.
When I graduated college, I worked at two hospitals in downtown Dallas. I had many roles at the front desk, and one of which was helping to organize the volunteers. That is where I met Joe and Dorothy (not the same Dorothy who is quoted above). Dorothy was a retired social worker, and Joe I believe was a retired engineer. I can't remember, which makes sense. I am so interested in people who dedicate their lives to a cause and not as much to people who dedicate their lives to business. I kind of glaze over when I talk to businessmen… But Dorothy, she walked with her head high. She wore her pink Parkland jacket, would quickly say hi and check in with me, and race on over to volunteer. She loved to help the needy. She loved Parkland. I worked most of the time at the fancy hospital, at Zale Lipshy, and she wanted nothing to do with it. She wanted to help those who had nothing. I was fascinated with her. I dreamed that one day I could end up just like her. She'd rarely hang out, she had way too many important things to do, like counsel the woman who just came in after being beat by her husband, or helping the 15 year old who was just raped and most likely impregnated by a strange, demented man. There was no guilt or shame or blame with Dorothy, there was just love. I asked her one day why she had so much energy, what made her so healthy and aware in her 80s, and she replied, "Sweetie, you just have to take one step after another. Just keep moving".
I forgot this story until recently. I hate how our brains do that. My husband reminded me, as he does so often. I really think he's my computer at times, my memory… What was the name of that songwriter we listened to all the time in Nashville, the one I was head over heels about and I really wanted you to drum for? Yes, Josh Rouse…that's right. Where did we go that time that you finished recording that album and we just needed a break from all the stresses of the music city, where we drank ourselves silly with too much red wine and fell asleep on the sand listening to the waves? Oh, right, Charleston, yes, I remember now… What's it going to be like when I'm 70?
So, back to ego. There are times when I'm meeting agency executives and marketing gurus and I think, I have done everything you have done. I get all those big words you love to use. I've accomplished so, so much. But you know what? Fuck all that. I'm interacting with seniors as much as I can. I'm letting my guard down. I'm vulnerable. It feels so damn good to be vulnerable. Crying with a stranger is soul-fulfilling. Serving seniors creates the most raw, truthful, eye-opening life. Taking the time and not rushing from one thing to the next is awakening. It's scary, being vulnerable. And it'll break your heart. But it's worth it, each and every day.
It's not important to be important in life. It's important to serve others.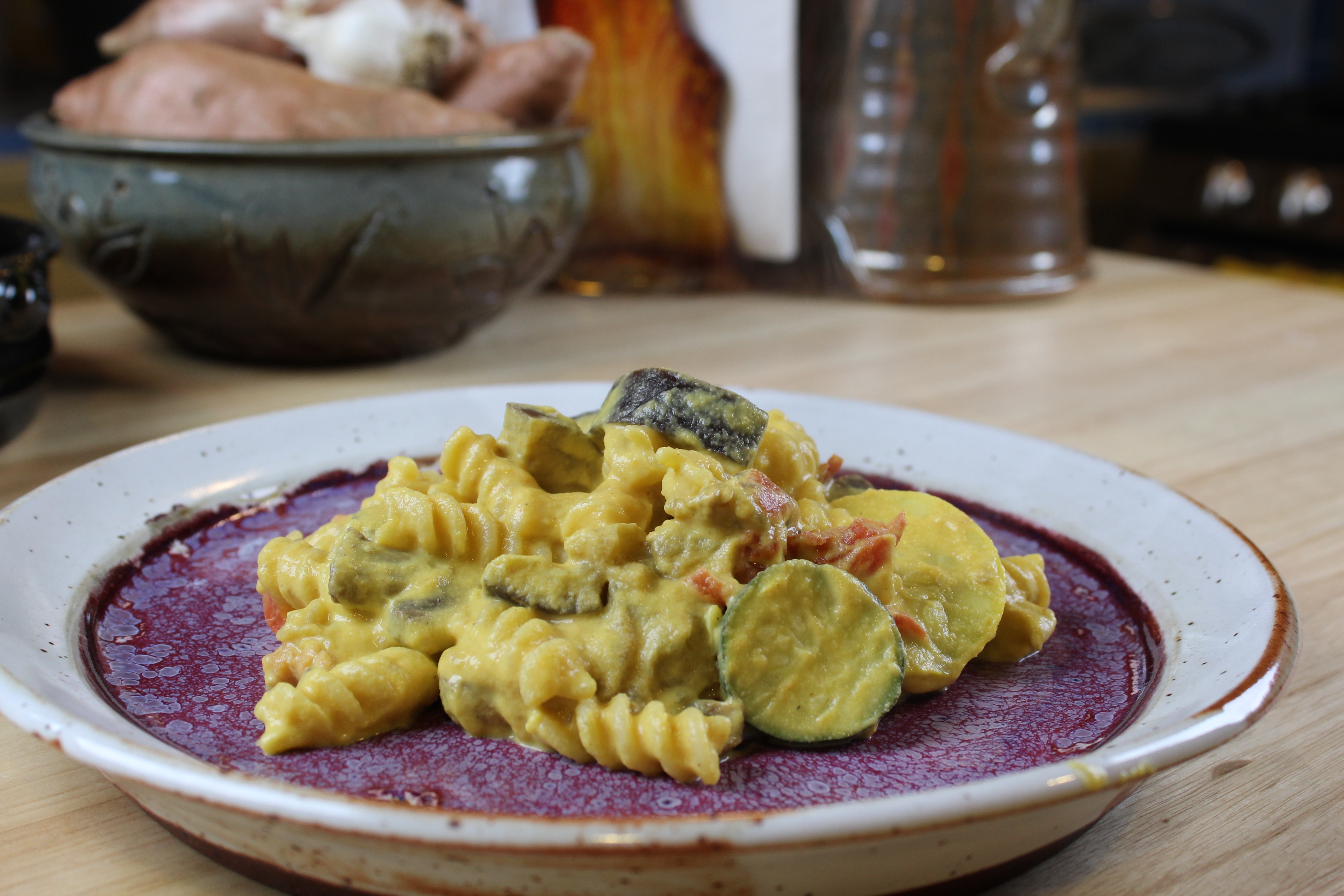 Ego Soul-Fulfilling Veggie Cheesy Pasta
Ingredients
1

c.

cashews

1

tbsp.

olive oil

4

medium carrots

1/2

head

cauliflower

3

cloves

garlic

4

tbsp.

nutritional yeast

1/2

white onion

1/2

tsp.

salt

1

small eggplant

1

yellow squash

1

zucchini squash

1

red bell pepper

8

oz.

baby bella mushrooms

1

tomato

16

oz.

pasta, fusilli
Instructions
Cover the cashews with water and soak for at least 2 hours.

Chop the eggplant (no need to peel) and the squash. Heat the olive oil in a large pot over medium heat. Add the eggplant and squash, and cook about 10 minutes.

Chop the cauliflower and peel/chop the carrots. Cook on medium heat in a separate pan for about 10 minutes. Set aside to cool slightly.

Chop the bell pepper, mushrooms and tomato, and add to the pot with the eggplant mixture. Cook for an additional 10 minutes, stirring often.

Heat a large pot of water to boil. Add the pasta, and cook according to package directions. Drain, setting aside 2 cups of the pasta water, and mix the pasta into the eggplant mixture.

Meanwhile, drain the cashews, and place in a Vitamix or high-powered blender. Add the garlic, cauliflower, carrots, nutritional yeast, onion, salt and pasta water. Blend on high for a few minutes, until all ingredients are combined.

Stir the cashew sauce into the veggie/pasta dish. Serve immediately.