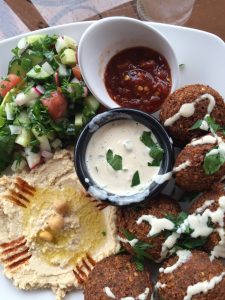 You wouldn't think there would be a lot of healthy options in a city nicknamed cowtown, but there are a few outstanding vegan restaurants in Fort Worth, and many restaurants that are willing to work in healthy food options.
Fort Worth has changed so much in the 10 years I've lived here, and changed for the better. It used to be so difficult to find healthy vegan food in Fort Worth, and now, thankfully, those days are long gone. Here are my favorites – updated yearly: the best Fort Worth vegan restaurants and meals.
The Best Fort Worth Vegan Restaurants
This list has been updated in June 2022!
New on this list is Boulevard of Greens. It's been a Fort Worth vegan restaurant for a few years now, but honestly I thought it was just another smoothie place, and I'm mostly partial to the smoothies I make daily at home. After being asked to try it out, I was simply blown away, not only at the expanse of food options (this is not just a smoothie, snack and juice bar!), but also at how cute the dining room is. It's like Flower Child cute, but it's not a chain. The food is fresh and freaking great and all vegan! I got everything to go, and went a little nuts on trying things: the quinoa tabbouleh, the deep sea dip, the kale crunch salad, two cupcakes, and two juices: the autobahn and copacabana. I highly recommend it and will be back soon.
Ever since Qana closed, all of our attention has gone to Istanbul Grill and Bar. It's fancier and the food is delicious; it's just a little harder to get to as it's in Sundance Square (which is great for any travelers). They have a few salads, veggies, hummuses, dips and breads that are fully vegan. Their service is good, wine list is good, and with it being right in the heart of Sundance Square, it's the perfect place to hit up before an improv show at 4 Day Weekend or a night of jazz at Scat Lounge. Date night covered!
We have a new vegan Mexican player in Fort Worth and it is Mariachi's Dine-in and hot damn are their vegan tacos insane good. Get the jack fruit! They have a full bar, too with an extensive tequila collection. This is one of my favorite choices for Fort Worth vegan restaurants – just heads up, though, like so much of Fort Worth, this place closes on Sundays.
Next best for vegan tacos and Mexican food is Belenty's Love right by TCU. Their food is fresh and has quite the kick to it. I no longer have to drive to Granbury for super fresh and delicious vegan Mexican food!
Hanabi Ramen – one of our favorite ramen restaurants offers one vegan main course, in addition to seaweed salad and delicious hot green tea. Their Kara Miso Aemen is a brothless ramen with a bit of spice, topped with corn, cabbage, bean sprouts, and they will sub the pork and egg for tofu. It is delicious, filling, and inexpensive!
My new fave ramen restaurant in Fort Worth is Wabi House. Their vegan ramen is so incredibly good. They have a nice full bar, too, and 2nd floor deck. In the winter, this is my go-to choice for vegan restaurants in Fort Worth.
Blue Sushi – if you even remotely like sushi you will love Blue! They have an extensive assortment of vegan rolls (Eden is my fave; Cowgirl and Thai Hippie are good, too), vegan apps (Brussels Sprouts and Edamame), a great tea selection, a beautiful, full-service bar, and vegan dessert – chocolate ganache mini bites with sorbet. You can't go wrong here! They are right around the corner from Hanabi and Eddie V's – a good place to go for wine and live lounge music for a date.
Spiral Diner – this funky little diner on Magnolia Ave. serves 100% vegan fare, and this place is always packed. I've sampled almost the entire menu over our 10 years of living here, and my faves are their El Paso Burger, the Sweet Luv U's Hummus Wrap and the Bunny Bowl. Spiral also offers a delicious selection of brownies, cookies, cakes and pies, perfect for events or the holidays. .
With Avoca coffee across the street, Stir Crazy Baked Goods with vegan bakery items just a few doors down, and Melt serving vegan coconut ice cream also close by, along with an assortment of bars and music venues, this neighborhood makes for a fun night out. Magnolia Street offers the best Fort Worth vegan restaurants, if you're looking to park once and enjoy a night out.
Hot Damn Tamales – also on Magnolia Ave., Hot Damn has some of the best healthy Mexican food options in cowtown. You can either buy frozen vegan tamales to-go, (perfect for gifts and holidays) or enjoy their brunch, lunch or dinner buffets at the restaurant. Their vegan tamales include Poblano Corn and Spring, and they have vegan dessert tamales of Tropical Fruit or Cranberry. They also offer vegan rice and bean sides, and often have a vegan soup as well. This is a family-run restaurant providing the best tamales around.
Cane Rosso – this pizza place, also on Magnolia Ave., offers vegan cheese and their pizzas really are delicious. It's loud here, but their patio is kinda nice if you can catch it on a not-too-hot afternoon. I suggest ordering their fungi pizza. This is the best place to go in Fort Worth if you're craving a pizza.
We have a brand new all-vegan pizzeria in town! Pizza Verde – right next door to Mariachi's. Their Greek salad is worth the visit alone, and their potato leek pizza is one of the best pizzas I've had. I've only had this delivered so can't comment on the dining room.
The Modern – the Modern Art Museum Cafe is not only one of the prettiest dining choices in Fort Worth, but they offer a few healthy (and vegan) dining options, especially if you call ahead. On a prior visit, I ordered a vegan lentil soup and a Tahini Maple Crunch Salad, both of which were delicious. And most recently, their tofu entree and sweet potato soup are both vegan and delicious. Their chef is incredibly creative and will work with you, especially with advanced notice, so call ahead and take advantage of this beautiful room. Then, check out the art, the reflecting pool, and walk across the street to the Kimball and the Amon Carter museums!
Pho Hung – this Vietnamese restaurant on Camp Bowie offers tofu spring rolls and a great tofu bun, which can be made vegan. I love this place, it's great to eat in and also to go!
We now have a Flower Child!! Yes, it's a chain, and yes, it's the perfect place for lunch. They have an extensive vegan menu, great drinks, and the prettiest little dining rooms. And then shop all you want at Fort Worth's nicest outdoor shopping "mall".
Righteous Foods – Righteous is great for their service and ambiance. I'm never blown away by their food, and I often leave here hungry, and it's pretty pricey, but I'm adding it to my list as I think it's worth visiting: you can order a coffee and a small dish and enjoy the ambiance if nothing else. I've had the Sweet Potato and Mung Bean Soup, the Kale Salad with an extra side of Cashew dressing (excellent suggestion from our server) and Job's Tears, a savory dish filled with salsify, spinach, golden raisins and pecans. It's across the street from Monkey and Dog, Fort Worth's best independent bookstore, and just a skip away from The Sanctuary, a great yoga studio.
Last but never least: dessert! I mentioned a few options above, but I'd be remiss to not mention Unrefined Bakery. They have a vegan cupcake of the month, and vegan cake of the month, and I don't know what it is, but the cakes are always so much better than the cupcakes. So if you've tried their cupcakes and weren't pleased, please go back and get a slice of cake! I have to mention this because so many friends have disappointingly tried their cupcakes and not gone back. Get the cake! It's so good, the flavors change monthly, and every month's options are delicious.
What Else?
Are you visiting Dallas, too?! Here's my favorite choices for vegan options in Dallas. After you've gotten your fill of the best Fort Worth vegan restaurants, head on over to our bigger sister for even more options and finer dining.
(The original post from December 9, 2015 is updated at least annually with the best Fort Worth vegan restaurants and meals)
SaveSave
SaveSave