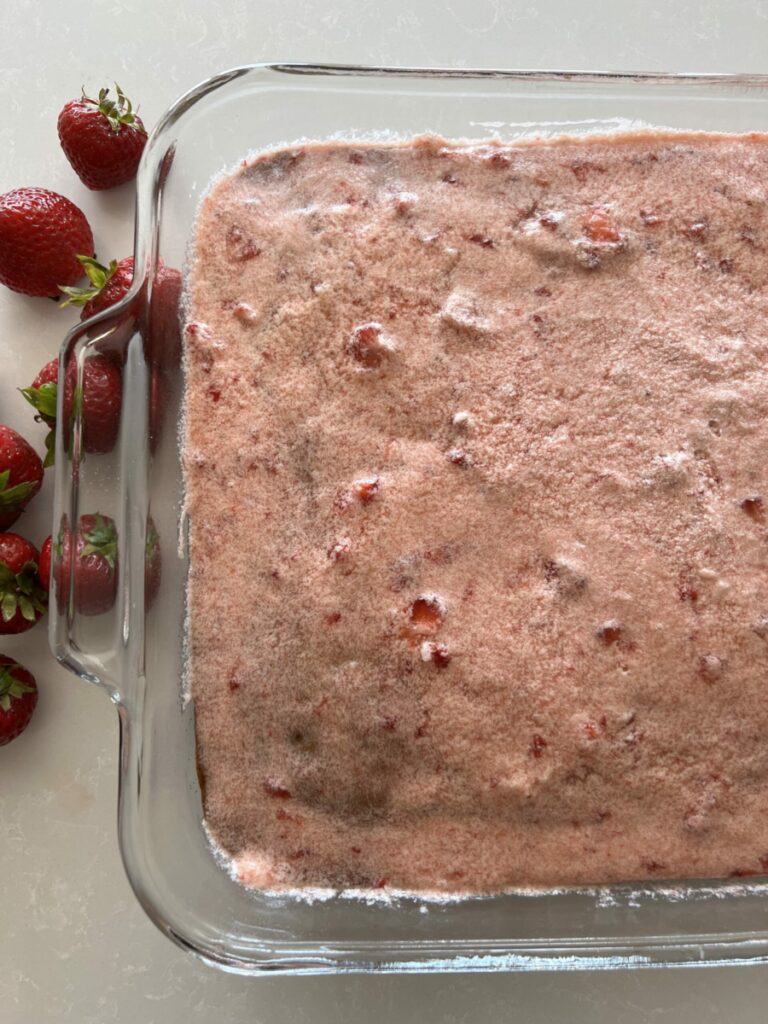 I first made this vegan strawberry birthday cake on my birthday, on this blog, 6 years ago today. I can't believe I was all-in on a cooking blog back then – it seems so long ago. With all that has happened in our world these past 6 years, my gosh, I guess it really was a long time ago. 🙂
So much of me misses those days: they were scary, fun, slower, and filled with deep diving into who I am and where I'm going. The world seemed less dark, and so much good seemed to be ahead of all of us. I want to think that's still the case. So I will.
It's fun and oftentimes scary (ha) to re-read what I was into 6 years ago. Reading an old journal is bad enough…reading my own public blog 6 years later is a whole other thing.  🙂
The fun part about this previous blog is that so much of it is starting to apply, once again. I feel in a place of transformation today, and in the past several days. I feel lighter than I have in quite awhile. I feel like I have a better understanding of who I am and am starting to see where I am going. That has taken so much work, so much counseling, so much yoga, so much meditation, so much reading, and so much listening. I'm grateful and lucky to have the option to dig into these areas (and truly listen) a little more these days. I hope you are finding some of this space, too.
Earlier this week, my dear friend and previous co-worker Jonathan came over and recorded me on his podcast. More to come on that, but what it did is reminded me of this journey: of veganism, of yoga, of meditation, of entrepreneurship, and it reminded me to not give up, to keep going, to stay on this path.
This is the right path.
I'm grateful for old friends who help to keep me focused, and who pop up at the perfect times. They keep us centered and focused, we just have to be ready for it. I'm so thankful I have the space in my life right now to be ready. These past several months, I've gotten back into yoga, back into my daily meditation, and have slowly been cooking again, too. I'm ready to keep all of those in my life from here on out.
And speaking of ready, I'm trying to keep these blogs shorter this time around, so that you can get to what really matters: the vegan strawberry birthday cake recipe! Here she is:
Vegan Strawberry Birthday Cake Recipe
When I first published this back in August 2016, I made this vegan strawberry birthday cake as a layered cake. That's more work than I want to do these days, so I dropped that part of the recipe. I also bought fresh strawberries instead of frozen, didn't have grapeseed oil (so I subbed with vegetable oil), and I only had 1/2 of a cup of regular almond milk so I used vanilla almond milk for the remainder. I added a tad more almond milk and strawberries to the icing, too, and used less "machines" in order to make this go a little faster, with a little less cleanup.
Guess what? This vegan cake still tastes great (maybe even better). If you're used to trying this as a layered cake, I encourage you to give the sheet cake a try. It's just as pretty and will save you some time (and calories as you're using less icing than before!). Holla!
Here's the updated vegan strawberry birthday cake recipe. Please give it a try and please, please, pretty please, rate it if you like it!  Thank you from the bottom of my heart. 🙂
Peace and Love to you and yours, 
Jen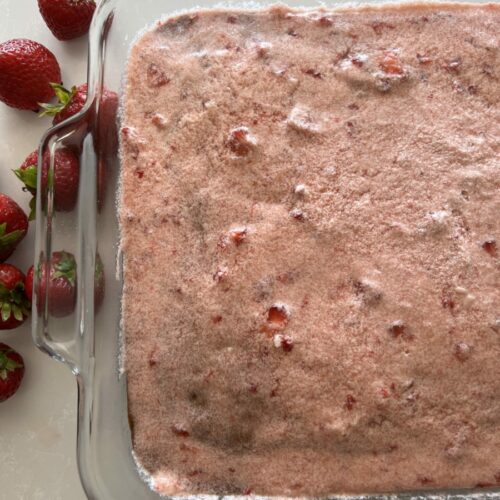 Vegan Strawberry Birthday Cake
This is a re-make of my layered cake, this time in a sheet version. I hope you love either option!
Ingredients
For the Cake
2

c.

all purpose flour

I used whole wheat

1

c.

pastry flour

I used whole wheat

2

tsp.

baking soda

3/4

tsp.

salt

1 and 1/3

c.

natural cane sugar

1 and 1/2

c.

almond milk

2/3

c.

vegetable oil

1

tbsp.

apple cider vinegar

2

tsp.

vanilla extract

1

pint

strawberries

fresh
For the Icing
1/2

c.

vegan butter

2

c.

powdered sugar

1/2

tsp.

vanilla extract

1

c.

strawberries

fresh

1/2

tsp.

almond milk

(optional – I preferred it, and you can add more if you'd like the icing thinner)
Instructions
Make the Cake
Heat your oven to 350 degrees. Spray a 9×13 pan with oil.

Mix the flours, baking soda, and salt in a large bowl.

In a separate bowl, mix the sugar, oil, milk, vanilla and vinegar.

Slowly pour the liquid mixture into the flour and mix for a few minutes. I used a spoon to mix (all about ease these days), you can use a handheld mixer if you have one.

Stir the strawberries into the batter, and mix well.

Pour the batter evenly into your prepared pan. Bake for 34-36 minutes, until a toothpick in the center comes out clean.

Remove from the oven and set on a cooling rack. Allow the cake to fully cool for at least 30 minutes.
Prepare the Icing
Using a handheld mixer, combine the butter with the powdered sugar, adding the sugar slowly, no more than 1/2 a cup at a time. Next, mix in the vanilla.

Chop the strawberries into small pieces and add to the mixture – use your mixer to break them up even more into the icing.

Note: at this stage, if you want the icing to be a bit thinner, add almond milk, no more than 1/2 a teaspoon at a time. I added 1/2 tsp. this time around.

Ice your cake! Pop it in the fridge for about 30 minutes to get the icing to set. Then slice, and enjoy!
Notes
This cake will last in the fridge covered for about 3-4 days. You can always freeze it, too, just don't ice it before freezing it! Cover the cake well with saran wrap before freezing, and make sure to defrost fully before icing.