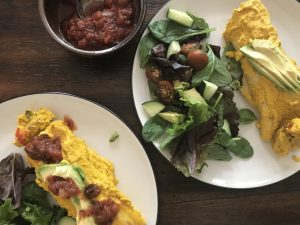 Three trashed blog posts later and here I am trying to find some words to post with my new recipe. It's a good recipe. I was craving fall after spending last weekend in Crested Butte (it's cold there, to me at least, even in the summer) and wanted to make my all-time favorite potato soup recipe. It's too hot in Texas for that, so I took the idea of it and put it in a tortilla and it's insane good.
I had never been to Crested Butte before but my bestie moved there and so now I get to visit. It's insane pretty. And insane high up there. I felt odd most of the weekend, even after my 20-minute session at the oxygen bar. I spend a lot of time in Santa Fe and I just assumed the extra 2000-2500 altitude difference wouldn't be so hard for this Fort Worthian to manage. I was so wrong.
There was an incredible art festival while I was visiting, and we ate at delicious restaurants, and drove around looking at the mountains and cool architecture. Mostly, we laughed and chatted and hung out with her husband and daughter. It's interesting in life how we meet people and then how often these people strike us as – yes, you. You're gonna be in my life. Neither of us live in the state we met in, neither of us do much on social media (her avoiding that trap more than me) and neither of us want to pick up the phone. Yet, once a year since we each moved to new states, we meet up, and all those 360 days in between our visits melt away and we pick right back up and I swear that no time has passed between us.
I'm lucky in life that I am surrounded by people who I admire. By people who are still learning and reading and pushing themselves to be better and pushing me to be better. I am surrounded by lifelong learners. Not necessarily in the school kind of learning – but the people who question and read and listen to new concepts and share their knowledge and build their lives around helping others. I am surrounded by thinkers, and helpers. These are the people I wanted in my life, and this is the life I have. That's incredible.
I was going to type up my normal trip report for you about the vegan options in town, but I can't remember where all we ate, other than most of the places being in Crested Butte and in Gunnison, and that everything was delicious. The coffee shop I do remember though, and it's called Camp 4 Coffee and their Americano is so dang good. Crested Butte is filled with interesting shops and a bookstore and has a hiking trail at the end of Elk Street where you can sit and look over downtown. In the bookstore I bought a new Billy Collins book (my fave poet pretty much ever) and a book by Rupi Kaur who I had never heard of (I live under a rock). I read the Rupi book on the plane back which was interesting for me and the older gentleman next to me; and I can see now why so many young women are hooked on her – a great poet and definitely a needed voice in this world we currently live in. I hope she helps encourage the younger generations to both use their voices for good, and to pick up books of poetry. And then I remembered that I wrote a ton of poems years ago and never did anything with them. What else is sitting around lost in email and in journals and in the back of my mind?
Spending a weekend with someone who really knows me and getting away from everything I know and being in a place that's gorgeous and yet also a place where I can't breathe was… really nice. Being out of my comfort zone with someone who fully understands my comfort zone – with someone who knows I needed that oxygen bar way more than I thought I did – that's a really strong feeling of home. And then I came home (and I love my home) and thought about the concept of home – how it's within us more than around us. Just like so many of the Buddhists I've heard speak over the years about heaven being not a place, but within us.
How many concepts do we apply to things we think are real?
And, what is real?
That's more than I can process today, but it's what's on my mind. I believe that we create our realities, to an extent. I believe that we choose our paths, to an extent. I don't think that we chose everything that has happened to us, not at all. But I do think we allow paths to shape as much as we are able. And I think that the people who come into our lives are there for us to learn from, and for us to share, in turn, to them.
---
I'm hoping to get back on a routine over here…I am missing my weekly posts. I hope everyone has had a great summer and I know I sure am looking forward to fall.   🙂
Love, Jen.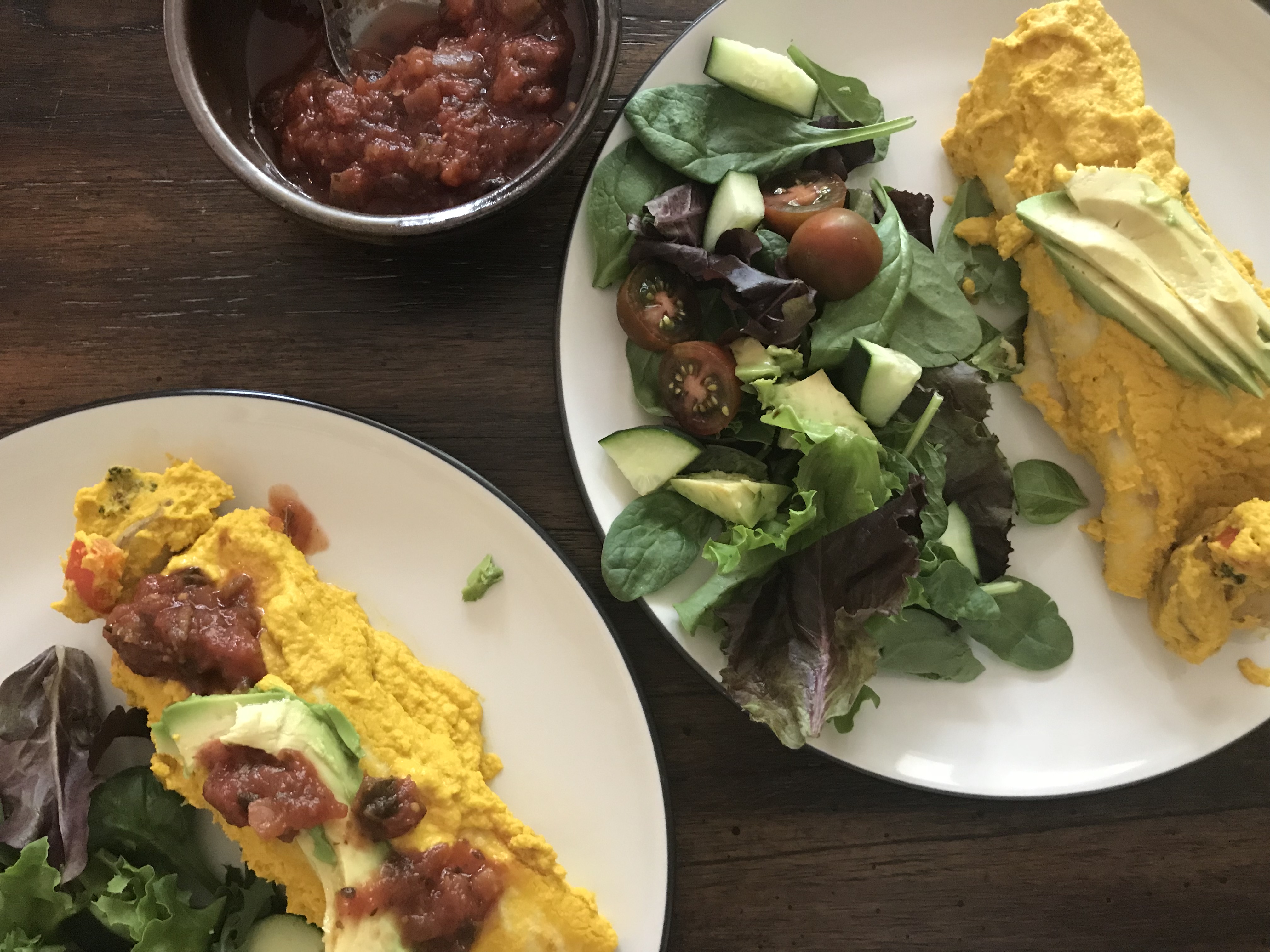 High Altitude Broccoli Potato Enchiladas
Note: make sure you make my vegan nacho "cheese" (see recipe link below) for this dish. You'll need to double that recipe to make enough of it for these enchiladas.
Ingredients
1.5

pounds

small yellow potatoes

2

small heads broccoli

1

red bell pepper

10-12

tortillas

salt

pepper

olive oil
Instructions
Double the nacho cheese recipe (link below) and set aside.

Heat the oven to 425. Chop the veggies. Place the potatoes on one pan and the broccoli/red bell pepper on another. Toss both with salt, pepper and olive oil.

Roast the potatoes for 35 minutes, turning and flipping half way through. For the final 15 minutes of cooking, add the broccoli/red bell pepper pan to the oven.

Remove from heat, lower the oven temp to 350 degrees.

Place the veggies in a large bowl and combine with 2 cups of the nacho "cheese" sauce.

Pour 1-1.5 c. nacho "cheese" in the bottom of a large baking dish, so the entire bottom of the dish is covered.

Heat the tortillas, spoon in the veggies, roll up and place seam side down in the baking dish. Top with at least 1 c. of the nacho "cheese" sauce so that all of the tortillas are covered.

Bake for 20 minutes at 350, remove from heat.

Serve with a small side salad or your favorite rise dish. Enjoy!