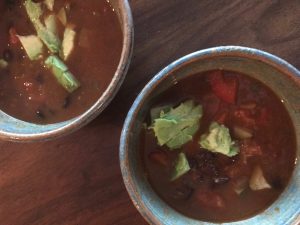 I'm sitting on so many recipes. It's overwhelming. I haven't felt like I have had anything to talk about, so I've been cooking, and not writing, for many weeks. Really, for most of this year. Recently, I was on my way to New Mexico, my favorite place, and I wrote this essay, and decided, WTF, just post it. This is modeled after Mary Pipher's Writing to the Change the World (if you're a writer, buy this book). This has not been edited, not at all. I wrote this on a plane, from Fort Worth to Albuquerque, in the window seat, next to a woman who drank Diet Coke and a man who ordered a Bloody Mary. I feel like that says a lot, in and of itself. And I'm realizing, as I'm re-reading through my short essay, that I use a lot of the same type of verbiage over and over. I don't know what that means, but here goes.
---
I'm not a mom and I don't think I'll ever be one.  I say don't think because I've never been able to predict what will happen next week, or next year.

I'm 37 years old, and a Leo. I was a month premature, so I should've been a Virgo.  I feel like that says a lot. 

When I was born, the doctor said I wouldn't live through the night, and told my parents to call in a priest and read my last rights.  So they did.  But I didn't want those to be my last rights.  And so I'm still here.
Most of the people around me think I'm older then I am, and despite the fact that I have all gray hair, I don't think it's because of the way I look.  But I've been known to be wrong.
I live in Texas and I swore many times over I'd never live in Texas.  I moved away twice, and came back twice.  We'll see where this goes.

I'm happiest in the mountains away from television and malls and magazines.  I prefer what I learn from nature over what I learn from the media or schools or most people.

I'm currently writing somewhere between Fort Worth and Albuquerque.  I feel like most of my life will be this way.  I'm literally up in the air but I might as well stay here; my thoughts are always up in the air.  I get lost in others' stories and in others speaking.  Being in the air feels right, whether the air of my mind or the air below this plane.

I prefer dogs to people, always. Dogs are quiet and just want to walk and eat and love and be loved.  We could learn a lot from dogs.

I live in a world surrounded by love in a bigger world surrounded by greed and I'm no longer sure which world rules the other.
I was raised by teachers who care more about encouraging others than collecting anything of value and for that, I'll always be thankful.

I can count my best friends on one hand and when I see them, I feel complete, whether I see them once a month or once every 16 months. I don't think it's by chance that I know them and I don't think it's by chance that we can pick up right where we started no matter how much time has passed. 

I use to think I wanted to travel the world and now I'm realizing more and more that I just want to travel the American southwest, and to be on my mat.  The places I go on my mat are often the most refreshing and liberating and whole.

I prefer women over men; not sexually, but in every other way.  And by women I mean only those who are willing to open all of their hearts and let their real selves pour out. 

When I was a kid, my drug of choice was books and drawing and creating and daydreaming and listening to music.  I loved to organize my things and preferred being in my room, alone. Much is the same today.

I eat vegan for my health and because I don't think it's ok to kill or mistreat animals for sport or food or to fill a craving.  I could write about this alone for hours but I realize these words divide; and so I often leave it as is.
I write this blog to share my stories and to help bring people together and to continue cooking healthy foods.  I write this simply to connect, and I hope to never stop.
---
Here's my black bean soup, which I have been sitting on for months without posting. I have a lot of posts about childbearing and women's rights and our legislation and monuments that I won't bore or infuriate you with, so here you go. Those posts will be saved as drafts, for probably forever.
Enjoy –
Love to all who read this and to all who love to cook. Cooking brings us together, no matter who you voted for, last year, or any year. Love, Jen.
SaveSave
SaveSave
Lost Over Black Bean Soup
Ingredients
1

large

white onion, chopped

3

cloves

garlic, minced

1

large

red bell pepper, seeded and chopped

1

large

zucchini, diced

2

tbsp.

cumin

1/4

tsp.

black pepper

1

tbsp.

chili powder

14.5

oz.

can of diced tomatoes

2

c.

salsa, spicy

4

c.

vegetable broth

3

c.

water

2

cans - 14.5 oz.

black beans, rinsed and drained
Instructions
In a large soup pot, cook the onion and garlic for 5-7 minutes over medium heat. Add the red bell pepper, zucchini and spices, and cook for 10 minutes.

Add the tomatoes with juice, salsa, vegetable broth, water and black beans, and cook for a final 45 minutes, bringing to a boil and then simmering.

Cool slightly and serve, topped with avocado slices, vegan sour cream, lime juice and tortilla chips.