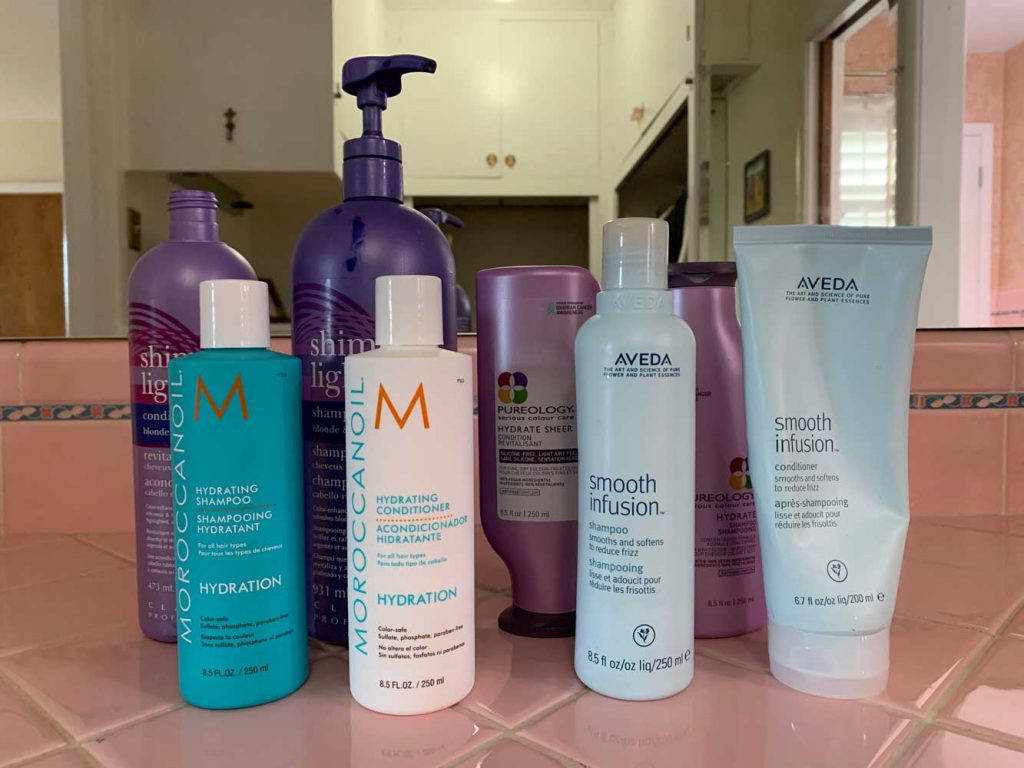 For 6 years now, I have been on the quest to find the best shampoo and conditioner for gray hair. I realized after my "I stopped coloring my hair at 34" post last week that you might be interested in this as well, and so here goes.
What are the best shampoos and conditioners for gray hair?
There's not one, not in my research. After over 6 years of testing and trying, here's what I have found: buy at least 3 or 4 sets of shampoo/conditioner, and use a different one every wash.
I have used every product under the sun, and for nearly a year, I used only baking soda to wash and apple cider vinegar to condition. I am not kidding. I'm kinda hippy; kinda barely, just a little.
So I have tried it all.
For me, I wash my hair every other day. So it takes me a full 7 days to cycle through all 4 brands.
Most of the shampoos and conditioners for gray hair that I am recommending are insane expensive.
Like, for real, please don't judge me.
Here's how to justify the expense (at least, this is how I justify the expense): you will use one of these only one time about every week and a half, maybe even one time every other week if you wash less than I do. You can switch to a cheaper brand (say Pantene of Herbal Essences) every other wash, which is what I do. These brands (according to my use) are not the best for gray hair, so I am not including them below. But they're cheaper, and that makes this list below a bit easier to swallow.
So, here goes:
The top 4 gray hair shampoos and conditioners, that I use every month (in order of least to most expensive):
As of this writing, it is $26 for the combo pack of shampoo and conditioner. This is the least expensive product I am suggesting.
Heads up, Clairol is not cruelty free. And…their products carry sulfates. I know… I hate it, too. I found out after I purchased them. For me personally, I will not be buying them again. I can't get with a product that tests on animals. And at the same time, they work. Well. 🙁
My impression: I can't stand the smell of this shampoo, I don't know what they put in it. It is also super purple. Every time I use it, I swear it'll be the last time I use it, and then…I love the way my hair looks.
My unbelievable, magic worker hair stylist Christina at Aveda Lemongrass says to mix the purple with another non-purple shampoo brand, that way your hair will not start turning purple. I don't use these products enough to warrant this (and if you follow my plan that I mentioned above, you won't either).
2. Moroccanoil Hydrating Shampoo and Moroccanoil Hydrating Conditioner
As of this writing, they are $24 each. Ooof.
I've used Moroccan oil products for years now as leave-in conditioners and styling oils. I had never used them for shampoos or conditioners until I went to an Ayurvedic practitioner last year and she mentioned I needed more oil on my skin and in my diet (refer to my last post about being Vata, if you are also a Vata type). Since I had been a fan of Moroccan oil as a post-shower product, I decided to try it as a full on shampoo and conditioner, and I love it. It leaves my hair smooth but not oily and is perfect for once every 2 weeks. Also, it smells great!
3. Pureology Hydrate Moisturizing Shampoo and Pureology Hydrate Sheer Moisturizing Conditioner
As of this writing, the shampoo is $28 and the conditioner is $32. I know.
This is my second favorite brand to use. It's so expensive. What do they put in these products, gold?? I tried it at a friend's house and just loved it. And of course, I had to come home and buy.
Ladies, here is the deal: with gray hair, you can look like you just don't care, or you can look sleek and modern and edgy. Plenty of products I have tried gave me frizzy, out of control, hippy hair. That is not the look I am going for. I want to look elegant. I want to be admired, particularly by my husband. Who does not want their partner to want them? I mean come on, be honest.
This shampoo makes my hair look sleek, and to me, sexy.
4. Aveda Smooth Infusion Shampoo and Aveda Smooth Infusion Conditioner
These are $28 and $34 as of this writing. I still can't believe I buy shampoo and conditioner that is this pricey. For the love.
And, they work. These products are my personal fave.
I'm slightly obsessed with peppermint and rosemary scents and so whenever I would pick up any Aveda products, I would by those. And be crazy disappointed. Those do not work on grey hair. Not at all.
The thing with gray hair is – it's course, and randomly wavy/kinky. You need sleek, shiny, smoothing products. These products that I mentioned above do the trick.
So, there you go.
Expensive, and worth it, shampoo and conditioner – the best for women with gray hair.
Why use a different product every wash? Because your skin and your hair – they get used to the same thing over and over. And that same thing over and over stops producing such great results. I don't know the science behind this, but I am sure it's out there.
How else do I justify this expense? Most of my facial products come from my kitchen cabinets. Believe me, your skin will look great and you'll spend a few nickels on skincare a day. I'll talk about this in a future post.
Here's to shiny, sleek, sexy, hair.
Love, Jen.