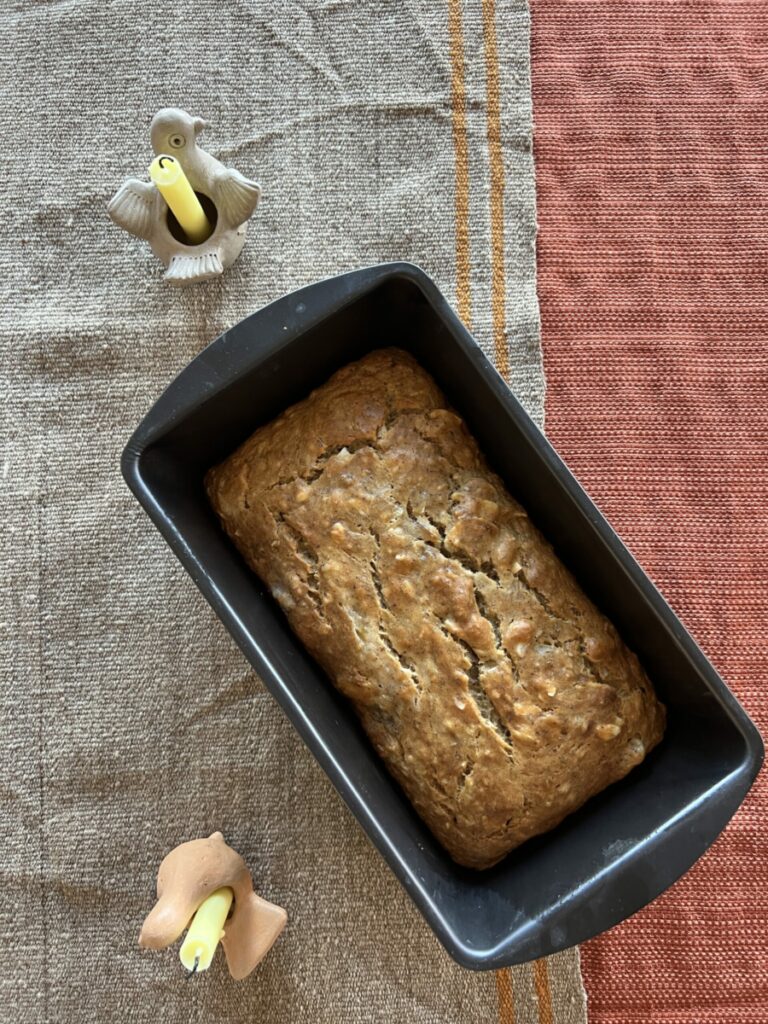 I've wanted to try high-altitude baking over the past several months and finally gave it a try with my old vegan banana nut bread recipe. This one is an oldie but goodie, and surprisingly adaptable as well! I might have gotten lucky, but all I had to do is bake this bread 5 minutes longer (our altitude is over 7K feet) and it came out perfectly! I've already eaten half a loaf (which is why I don't bake as much as I used to – I have no willpower)!
Luckily, this vegan banana nut bread recipe is different from others in this way: there's no refined sugar! There IS half a cup of maple syrup, so yes that counts as something, but I like to believe it's healthier than sugar, and I'm all about the mental reframing when it comes to sugar. 🙂 And… I'm not the only one who thinks this – here's some facts on maple syrup versus sugar.
So if you're looking for a new vegan banana nut bread recipe for your stash, I encourage you to give this one a try! I didn't have enough butter on hand so subbed it for melted coconut oil, and I didn't have any pecans or walnuts so I added 1/2 cup of sliced almonds instead. It took less than 10 minutes to put the ingredients together (after the milk+vinegar game below) so it's truly the perfect bread to make when you have several ripe bananas and a 30 minute morning break of no zooms.
No flax seeds in the pantry? Sub 1/2 cup of applesauce (my new fave baking egg replacement after making wayyyy too many chocolate cakes and cookies for my love for V-day – and let's face it, they are for me, as he absolutely does not want the sweets around). 1/2 cup of applesauce is the perfect replacement for 2 eggs, just FYI!
Wanna head straight to the recipe? Click here: Jump to Recipe
Aside from trying some old recipes, most of our time in New Mexico has been spent eating out (my god the food here is unbelievable), walking and hiking, going on drives, and having friends and family visit. If you couldn't already tell, we absolutely LOVE it out here and are already having a hard time making the decision to either live here full-time versus splitting our time between the Land of Enchantment and Texas. Have any of y'all tried a split like this before? I hear of people who have, but never personally known anyone who has, so if you have, I would love to know how you pulled this off!
For me personally, I just can't get over how sad Texas makes me feel these days, with the political climate, especially the "we love guns" and "we hate women" stance that the state (and especially Fort Worth) has taken. But our business is based there, and my family and friends are there, so it's a hard move to make full-time – although I will say we're getting closer and closer to wanting to call New Mexico our full-time home. I guess we'll just see how this all plays out.
Moving in our 40s – and establishing a new life in our 40s – and being fully remote – it's often harder than it all looks and sounds. And yes, I fully understand how incredibly lucky we are to even be attempting this move/half-time locale.
In the meantime, I'll continue to try to distract myself with this vegan banana nut bread recipe, and a whole lotta other recipes I've been wanting to bring back to the forefront. There's too much tastiness out there to not be cooking and baking and enjoying every minute we have.
With love from the Land of Enchantment,
Jen
Here is My Oldie But Goodie Vegan Banana Nut Bread Recipe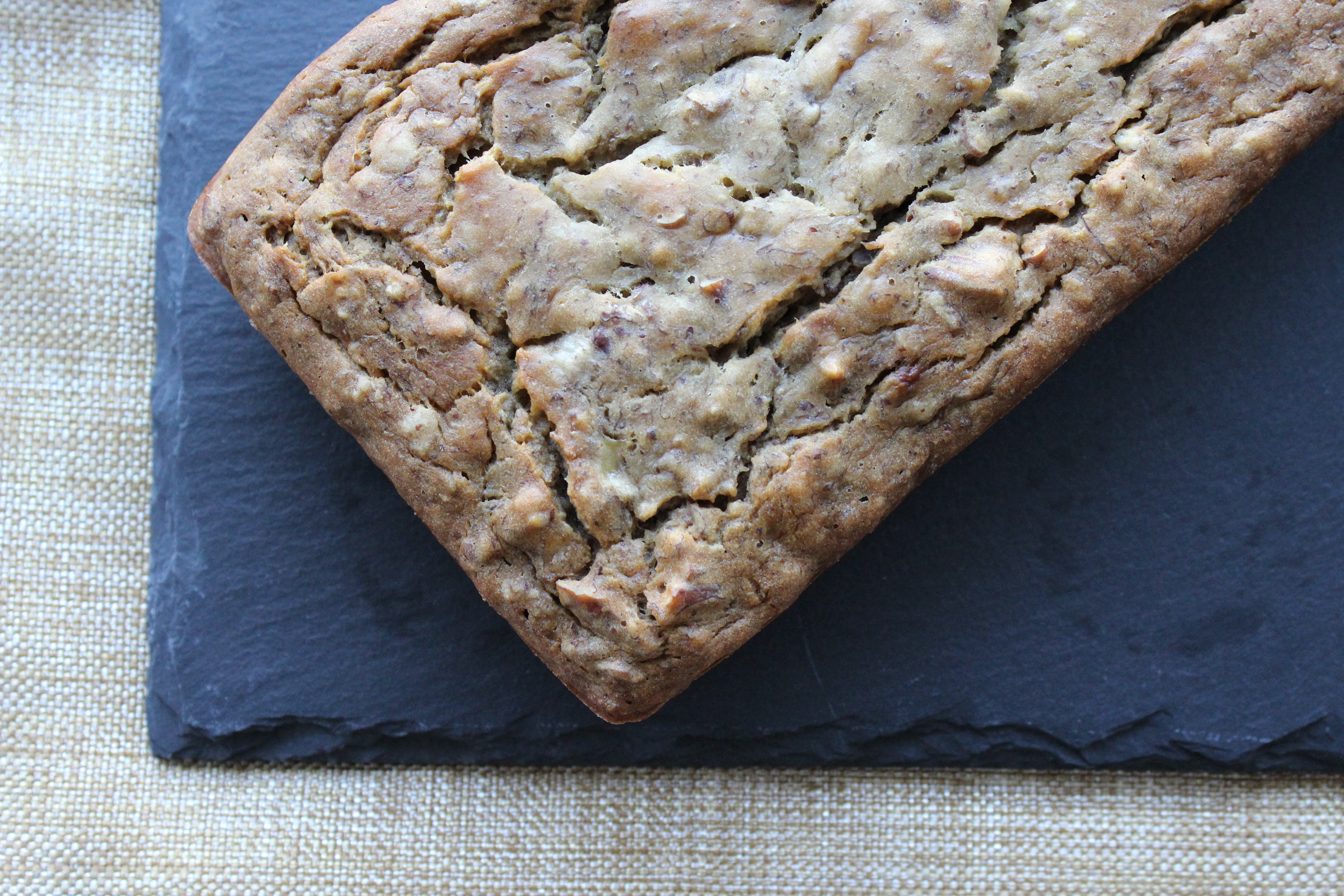 Vegan Banana Nut Bread
Ingredients
3

tbsp.

almond milk

1/2

tsp.

vinegar

1/2

c.

vegan butter, melted and cooled

2

tbsp.

flax, ground

2

c.

very ripe bananas, mashed

(about 4 large bananas)

1/2

c.

maple syrup

2

c.

flour

1 and 1/2

tsp.

baking soda

1

c.

pecans, chopped
Instructions
Mix the almond milk with the vinegar in a small bowl, and set aside for one hour.

Mix the flax meal with 6 tbsp. of warm water in a small bowl, and set aside for about 10 minutes.

Heat your oven to 350 degrees.

Melt the butter, and set aside to cool off slightly.

In a large bowl, combine the mashed bananas, maple syrup, and flax. Slowly pour the butter, mixing well. Then add the flour, baking soda, and buttermilk, and mix well. Finally, fold in the pecans.

Coat two loaf pans with oil, and pour the batter evenly between the pans.

Bake at 350 degrees for 40-45 minutes, until a toothpick comes out clean and the tops of the loaves have browned.
Notes
This bread is best served warm, and of course, I love to add peanut butter to the top before serving. Enjoy!