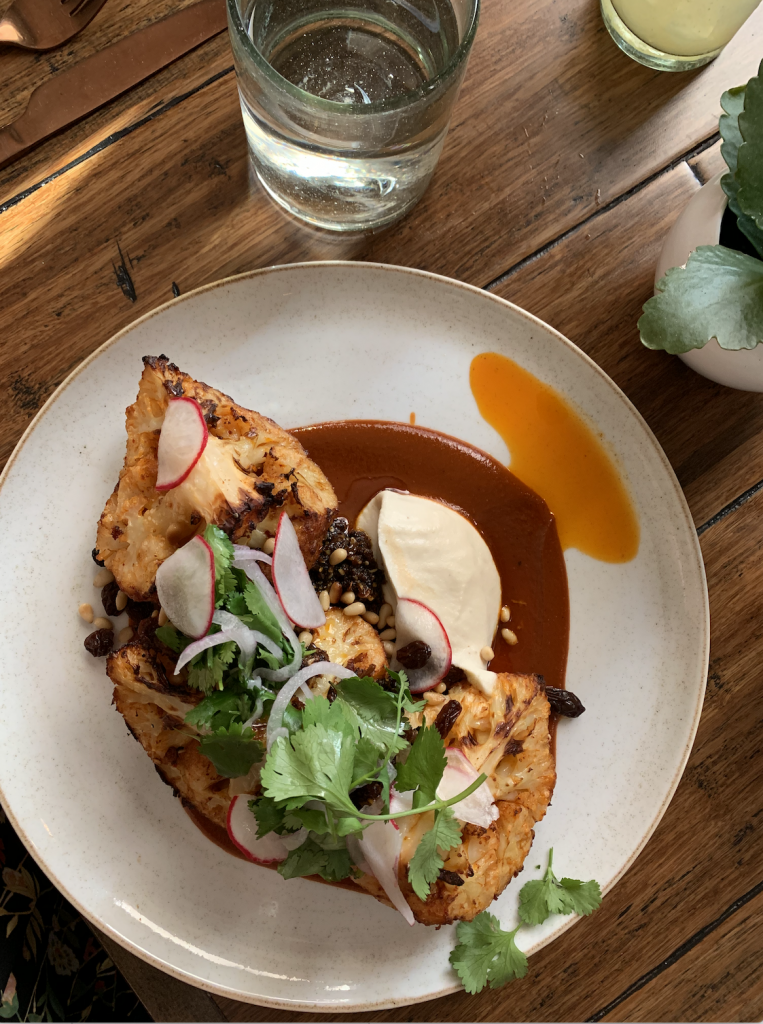 After a week-long trek to some of my favorite places throughout New Mexico and Texas, I realized with all the posts I've created on this blog about Santa Fe, not one lists the best vegan restaurants in this city. So, here you go: an overview of where to eat vegan in Santa Fe, New Mexico.
If you're looking for trip highlights and things to do in Santa Fe, click on these links or search the New Mexico page for even more vegan and travel tips both on this city, Albuquerque, Abiquiu, and more.
A few things to note: we try to stay away from the Santa Fe Plaza as much as possible. Aside from the museums and Cafe Pasqual's, I prefer to venture mostly to the outskirts, as the Plaza can be packed with tourists, and the food is really not the best the city has to offer. In the evenings, it's great to walk around because Santa Fe, like me, prefers to turn in early – the Plaza will be empty by 8 p.m. Daytime, in my opinion, it's best to avoid.
Eating Vegan in Santa Fe: the Best Restaurants
Paloma – holy moly, you guys, go here. Get the cauliflower dish, and please tell me how to make food this good. They have a lot of yummy non-alcoholic beverages too, which is my preference these days. If you're into that, the grapefruit soda and the ginger soda are both delicious and made fresh in house. The dining room is gorgeous and colorful, the service is excellent, the patio is super cute. You will not regret going here; this will be on my top restaurant list from here on out!
Cafe Pasquals – best place for brunch and they'll sub tofu for eggs in most dishes. Be prepared for a long wait as this is close to the Plaza, yet the food and decor is worth it!
La Choza – they have a delicious vegan posole, a fairly good vegan tostada, and my husband says their fish tacos are the best he's ever had. Great service and tons of locals; definitely worth your stop.
Jambo Cafe – incredible curries and absolutely delicious veggie finds. Definitely add this place to your trip itinerary; they have a little store next door that sells African imports, too.
Paper Dosa – the dosa "appetizers" were incredible, and huge (really they are main dishes but I wanted to try a lot of food so treated them as appetizers). I wasn't blown away by the veggie curry; it was super heavy and the veggies didn't seem cooked all the way; so maybe order something else. Much of the menu is vegan or can be made vegan, they have a pretty patio and great service. The dosas are worth the try if nothing else! And they also have house-made sodas – the ginger is great! The tamarind soda, we were not so into. 🙂
Sweetwater Harvest Kitchen – really cute dining room and awesome vegan seasonal options.
Joseph's Pub – I love this homey space! They have fantastic veggie options and many of their dinner entrees can be made vegan. Joseph's is great for a date night or special occasion. Note though that they unfortunately do not have a full bar – but they do have a great wine selection!
Modern General is great for fresh juices (and it's cute, to boot, annnnd they have a monthly book club, swoon)
Vinaigrette is good for salads, although it's now a chain, boo
Kakawa is delicious for chocolates and elixirs
The Farmer's Market! One of the yummiest ways to spend your Saturday morning is to meet the famers, bakers, and coffee roasters selling their goods in the Railyards. And artists will be present, too!
Note: for lunch and dinner, I would avoid Bumble Bees and Tune-Up. I wasn't taken away by either of them, and there's too many other places to try. They come up often in vegan searches in this city so I am mentioning for those who resort to Google. Also, Thai Vegan closed – waaah – but their ABQ location looks like it is still open.
P.S. – I'll keep this updated with each of my trips there, and since many of y'all reading this know me, of course I already have my next trip planned. 🙂
Enjoy! And let me know what you think!
Love, Jen.